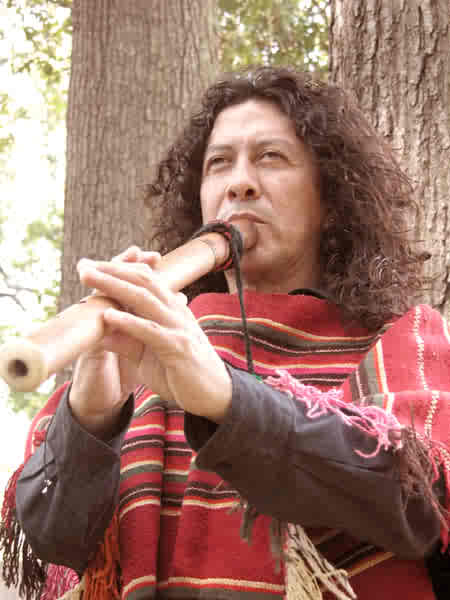 Commuters run up and down the escalators of the Foggy Bottom Metro station in Washington, D.C.–women in suits and sneakers, men with briefcases and security badges.  Twenty feet to the left of the subway entrance is a little piece of solitude. Sweet, soaring notes perfume the air, created by three small, dark men from the mountains of Bolivia. Amidst the morning rush, the music this trio makes is sweet enough to charm even the most hard-boiled State Department official.
The musicians–Julio Cazon, Beto Cabrera, and Angel Penaranda–are collectively called , which is Quechuan for "fascination." They play Bolivian folk music, the ancient music of the indigenous Andean peoples.
 
Andean folk music flourished under the Incan empire, but its woodwind and percussion instruments can be traced even further back, to pre-Colombian times.  Two of these woodwinds–the zampona, a bamboo pan flute, and the quena, a flute with shape similar to the recorder–provide the music's signature lilting, quavering sound.
Click to see a clip of an Itumiray performance.
The structure of traditional Andean melodies is simple, based on a pentatonic, or five-note, scale.  Itumiray starts with this basic arrangement and builds upon it, adding layers to the music and complicating it, while still maintaining the traditional heart of the sound.  Guitarist Beto Cabrera's influences include American rock and jazz, and he brings these flavors to Itumiray's music.  The band's leader, Julio Cazon, is a master of the quena and the zampona, crafting each instrument he plays with his own hands.
If you can't make it to D.C. to see Itumiray in person, check out their . You can listen to their music, learn more about the band, and purchase their CDs.
Photos courtesy of the artist's website, with the artist's permission.