top pick for eco-tourism and volunteering in thailand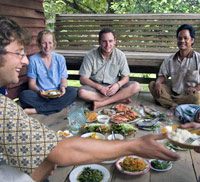 I've long been aware of the fantastic community based travel organization Andaman Discoveries, and may admiration for their work has only grown over the years. If you are headed to Thailand and want a real cultural immersion and a chance to lend a hand helping communities along the Andaman coastline rebuild and rebound from the devastating tsunami, this is it!
These winners of the 2007 Virgin Holidays Responsible Tourism Award offer it all: eco-tours, cultural tours, interactive handicraft workshops, and volunteer placements, even for those with limited time. They also include special program for women, families and for "mature" travelers.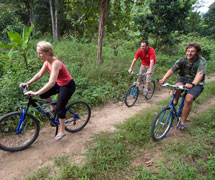 Eco-adventurers will love the tropical jungle hikes and paddling through the mangroves, and everyone benefits from a Thai translator, which allows you to truly engage with the people you encounter along the way. These guys can also bring you into small villages where you can mingle with the locals and buy traditional handicrafts from a community-run co-op.
If you'd like to pitch in on a volunteer project, Andaman Discoveries facilitates several; everything from helping conserve mangrove forests and develop nature trails to assisting with tutoring at the community center or taking part in the progressive waste management and recycling programs they support.
The Thai people are among the most friendly in the world, and any chance to immerse yourself more deeply in their culture is sure to be a highlight on anyone's itinerary.
Add a comment