"I survived the Inca Trail" t-shirt
When you finish hiking the Inca trail to Machu Picchu, you can get a tshirt which says "I survived the Inca Trail." Given the strenuous nature of the hike, survived sounds about right. The trek involves three days of non-stop hiking on uneven pathways, some of which meander casually through the highest mountain ranges of the Andes, including going through a pass at a height of ~13,000 feet (4,200m) aptly named "Dead Woman's Pass". But fear not, it isn't as ominous as it sounds. The pass is named "Dead Woman's Pass" because the profile of the surrounding mountains as seen from here resemble a supine woman's form.
At cloud level, on top of the Andes mountains, as seen from Dead Woman's Pass
But before I jump ahead of myself, let me start at the beginning. It had always been my dream to hike the ancient Inca trail to Machu Picchu – one of the new seven wonders of the world. It was serendipity that our visit in June 2010 coincided with the 100th year of celebrations of Machu Picchu's rediscovery by Hiram Bingham. This meant the entire country of Peru was in a festive mood about everything related to Machu Picchu. It was a great time to visit and join in the cultural festivities and local celebrations.
Even though we did the hike in June, the actual planning and booking for our trip began 6 months earlier in January. It is important to plan as far ahead as possible, since hiking the Inca Trail needs to be done with a licensed guide/company and the availability fills up months in advance. Nobody can hike the trail on their own, everybody needs to obtain a permit and be accompanied by trained and licensed guides. These new rules were introduced several years ago to limit the number of people hiking the Inca trail daily to a more manageable number. This was done mainly to protect the trail system and prevent excessive wear and tear.
Our Peru Treks group at the beginning of the Inca Trail hike to Machu Picchu on Day 1
After weeks of research, we decided on going with Peru Treks. In hindsight, it was one of the best decisions we made. It really is up to you on what your preference is. Some companies guarantee small groups, others offer more luxurious options along the trail, some offer different routes that may be shorter or longer than the Classic 4-day Inca trail. It is your personal choice on which company/guide you go with. Whoever you decide to go with, contact them as soon as possible to figure out available dates and rates.
Peak season for hiking the Inca trail is June through August, also known as the dry season. The Inca trail closes for maintenance every year in February. Hiking the trail in the shoulder months is a great idea, but there are chances of getting caught in rainy weather. We chose to go in the second week of June since it was close enough to the shoulder season but not right in the middle of the peak season.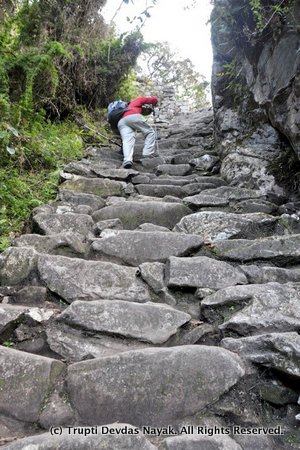 The stone steps you climb along the Inca trail look exactly like this!
Booking your dates 6 months in advance gives you another advantage. Time to prepare for the hike! Trekking the Inca trail is no easy task. It's like running a marathon, all uphill. This is compounded by the fact that the mountain air in the Andes is very low on oxygen at altitudes of 8,000ft – 13,800+ feet, so every step you climb is made that much more harder. You've to also be aware of the dangers of altitude sickness, which can come on unpredictably and can affect even the most fit person. I've written an in-depth post about getting fit and details of physical preparation required for hiking the Inca Trail.
Happy to have made it to Warmiwañusqa (Dead Woman's Pass) on Day 3
The Classic 4-day Inca trail is 26 miles in length and involves 7-9 miles of moderate to strenuous hiking every day for 3 days. In our experience, the second and fourth days are hardest. The second day is when you summit Dead Woman's Pass at 13,000 feet. The exhilaration and thrill of having made it past the hardest day of the hike is an unforgettable feeling. The views along the hike are gorgeous, mist-capped Andes mountains on either side, lush tropical greenery, fantastic orchids and flowering plants all alongside the trail. Serenity and solitude accompany you as you hike through different ecosystems, from lush tropical jungles to sparse alpine mountain meadows. On the fourth day, you wake up before dawn to finish the last portion of the hike to reach Machu Picchu just as the sun is rising above the Andes. Since this is the last day of the hike, adrenalin kicks in and chances are you won't even feel tired anymore. The anticipation of finally seeing Machu Picchu is similar to the feeling in your stomach when riding a Giant Wheel. It's a place you've only dreamed of, a city you've seen only in pictures and videos, and finally the day dawns when you will see it for real.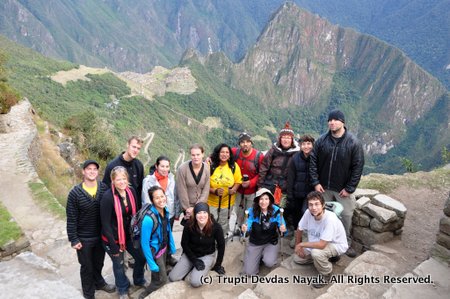 Our Peru Treks group on Day 4, right after we've made it past Sun Gate and hiking our way down to Machu Picchu
On the fourth day past the Sun Gate, we made our way downhill to the ancient Incan city. The stone structures of the city were visible from here, tempting us to hike faster. Everybody had forgotten their tiredness and exhaustion. Soreness was only a distant memory as we walked on, floating on air, closer to our final destination.
Admiring the Incan stonework and magnificent ruins alongside llamas who get to enjoy this view everyday
Even though our guides had seen Machu Picchu hundreds of times, they were as happy as we were when we reached the city. Peruvians take great pride in their Incan heritage and everybody we met was eager to share their story with us. Our guides did a phenomenal job telling us all about the history, culture and lifestyle of the Incan civilization. We got a guided tour of the entire ruins after we reached Machu Picchu. But first, we sat on the lush green terraced steps, taking in the stunning views in front of us.
Ruins along the Inca trail get progressively grander culminating in Machu Picchu
Many people opt to head back after the hike on the fourth day itself, but this allows only a few hours at Machu Picchu. We decided to stay at Aguas Calientes for the night so that we could come back to visit Machu Picchu again the next day. In retrospect, this was perfect because we were able to leisurely spend the entire day among the ruins, exploring every nook and corner. We savored the joyous feeling of accomplishment that we'd trekked the ancient mountain trail to Machu Picchu, just as the ancient Incans did thousands of years ago.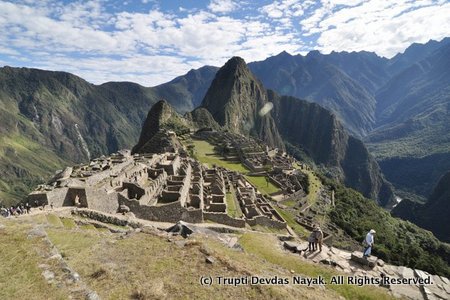 Standing on top of the world! Taking in stunning views of Machu Picchu
Hiking the Inca trail to Machu Picchu is on many bucket-lists (or life-lists as I like to call them). With planning and preparation, anybody can do this hike. Machu Picchu is unlike any place I've ever seen. There are many stories and much history hidden among the mammoth stone walls of the city. Machu Picchu is as much a place for it's marvelous architecture as it is for it's spiritual vibe. This magnificent city, hidden away from the prying eyes of the Spanish conquistadors is open to the world now to see and admire. It has withstood the ravages of time and will continue to do so for a long time to come.
You can find more "How-to" tips in my handy Guide for hiking the Inca Trail. For itinerary details and tips on planning your trip to Peru, read my post on Peru: the land of the Incredible Incas.
If you're planning on visiting Machu Picchu, feel free to leave a comment or question!
Happy Hiking!
~ Trupti