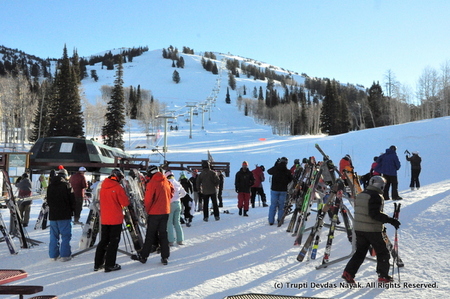 Dreamcatcher lifts at Grand Targhee ski resort
My first experience with skiing was at Lake Tahoe in California several years ago. We had signed up for the beginner ski class and I'm not ashamed to say that I spent most of my first day falling non-stop on the cold snowy ground. By the next day however, I was able to come down the slopes without any fear of falling. I felt pure adrenalin and the thrill of being able to ski as I practiced my pizza for slowing down and made my turns – I felt like I was in total control.
Ski and Snowboard school at Grand Targhee
Now 3 years later, I stand at Grand Targhee ski resort in Wyoming, feeling both trepidation and excitement, as I get started for my ski lesson. With 5 lifts, more than 2600 acres and an average annual snowfall of 500+ inches, Grand Targhee is a ski destination par compare. The views of the Grand Teton Mountain Range as you ski down the slopes will fire up your imagination. It's no wonder Grand Targhee has been voted one of the top 10 most scenic ski destinations in the entire world.
View of the Grand Tetons while skiing on Grand Targhee! Photo credit: Benjamin Powell Photography
Although, in my case I will be exploring only the beginner slopes for today. I am introduced to Elizabeth Miller (Beth) who will be my ski instructor. Beth has a warm, lovely smile and a patient, encouraging demeanor, which makes me trust her instantly. I tell Beth that I want to start from level zero which usually means the instructors teach how to get your skis on and make you practice your moves step by step on the level surface. She smiles and asks if I've skied before. I tell her about my experience on the beginner slopes at Lake Tahoe. "Oh, you'll do great, don't worry" she says.
Skiing at Grand Targhee – wheeee we come down the slopes!
We shuffle over to the beginner area at Grand Targhee. Beth points out to a traverse that goes across the slope and announces that we will be slowly making our way across that. I gasp, telling her "No, I don't think I can do that!". I want to just stay where I am and pretend I'm skiing. Beth smiles and tells me that she will be right next to me throughout the way. I can hold onto her or to the ski pole she's handing out to me and I won't have to worry about falling one bit.
Dreamcatcher lifts filled with skiers at Grand Targhee
We do some practice moves on the flat surface, Beth teaches me how to edge my skis to slow down and how to shuffle my skis up a slope so that I'm not going downhill against my volition. I sense my leg muscles warming up. Long-lost memories come flooding back, I've done the same moves years ago on the slopes in Tahoe. I'm careful with my movements on the snow, making sure not to take big steps or move too fast. Beth compliments me on my stability, I'm making progress – surely and slowly. I'm now comfortable enough to start making that traverse across the slope.
With Elizabeth Miller, my ski instructor extraordinaire
But first things first, we should get rid of our poles. I agree with Beth on this one. Poles are more of a hinderance than help for a beginner skier. Poles make us lose our focus on our feet and balance, instead we end up using them like crutches to prevent a fall. I hand over my poles and start concentrating on my balance. I review edging, pizza-wedge and shuffling. I go through the movements in my mind. Beth holds onto one ski pole which she stretches across in front of me, so that I can hold onto it when skiing. It gives me comfort, same as the fact that she's right beside me. We start skiing slowly across the traverse, as the slope steepens, my speed increases, and I squeal involuntarily. But I'm pleasantly surprised that I'm holding my balance well and I can make a pizza anytime to slow down! Progress!
Skiing at Grand Targhee ski resort
We get to the middle of the traverse and stop because the ground flattens out. Now, Beth starts teaching me all about turns. She demonstrates how to push my weight from one leg to the other, while maintaining balance so that I can turn to my left or my right. I learn how to do the right turn immediately, but the left takes some time. I keep pushing my weight to the wrong leg and end up stalling instead of making a smooth "S" in the snow. Beth and I laugh at my wonky left turns, but she's impressed with my edging. During all this time, I haven't fallen even once on the snow and I'm thrilled to bits about that.
Going up the magic carpet escalator at the beginner slopes
We practice our moves on the slopes – flattening the skis to move faster, edging to slow down, making right turns, left turns, going down the slope with "french fry" (parallel skis) and making a pizza to stop. I'm having the time of my life and Beth is too! We ski to the bottom of the beginner slope and back onto the magic carpet escalator to go right back up. At the top of the escalator, I boast to the guy who's operating the ride that I haven't fallen even once. "Good job" he says. I grin brightly and get ready to get off the ride. Alas, I've spoken too soon. I slide off the escalator, promptly lose my balance and fall down in a burst of giggles. "You jinxed it!" I tell the guy. He laughs as he and Beth help me get up.
Looking down at my skis!
Beth and I do several runs on the beginner slopes to practice what I've been learning. At the end of my ski class, I feel like I have a better grip on the basics of skiing but need to practice my turns before I can graduate to steeper slopes. Beth is such a great instructor and I have had such an amazing time with her! Not only is she warm and genuinely friendly, but she is extraordinarily patient and encouraging which makes me feel like I am learning to ski with a friend who has my best interests at heart. She also does an awesome job explaining what I'm doing right and where I need to improve – both of which are immensely helpful.
Thank you Beth – I relearnt the art of skiing at Grand Targhee with you and will forever cherish the fun we had on the slopes. I cannot wait to be back next season to ride up the ski lifts!
With Beth (Elizabeth Miller), my wonderful ski instructor at Grand Targhee
Tips for first-time skiers: 
Get rid of the poles. Believe me, they are more of a hindrance than help. You need all your focus and attention on your balance and weight to keep you upright, and not think about the poles. It is the same analogy when hiking – poles save your knees and help you when going uphill or downhill, but you do move a lot faster when hiking without poles. 
Do not look down at your feet or skis when skiing. Do you look down at your feet when walking? No, right? The same logic applies. If you look ahead at the place you want to reach, you will find your skis automatically moving in that direction. Your legs and feet will do the right thing to help you move ahead, just keep your eyes focused in front of you, watch for where you are going instead of looking down at your ski-clad feet.
Learn to make a pizza wedge to stop and edging to slow down. Doing these two things gave me a lot of control over my own speed and that in turn helped me get comfortable on the slopes.
Let go of your fear of falling down. Yes, falling is inevitable but if you are afraid of falling down, I'm willing to bet you will end up falling down even more.
Make small movements and be aware of how you shift your weight on each leg. Big movements and skis don't go well together when you're a beginner. Skis make us awkward when we walk, so make small movements to get ahead, edge up the slope or when getting on/off the magic carpet. 
Enjoy the learning process! Learning skiing is just like learning to ride a bicycle. None of us learnt to ride in the first try – there was plenty of falling and fear of uncontrolled speed and visions of crashing into the sidewalk. But once you get your balance right and are able to control where you're going – skiing will make you feel like you're flying, and it is a wonderful feeling! 
Happy skiing!
~ Trupti
Disclosure: Ski Idaho, Idaho Tourism and Grand Targhee provided for my travel and accommodation in exchange for writing about my experience at Grand Targhee ski resort. Regardless, everything I have said in this post reflects my honest observations and opinions.