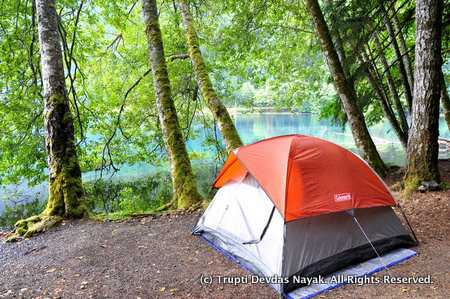 Our camp beside Lake Crescent in Olympic National Park, Washington
Right now, it sure seems like summer is far away, but warm sunny skies will be here before you know it! And you don't want to be left out in the cold without a camping reservation, do you? Many popular campgrounds in top state & national parks get booked months in advance. Sure, most parks keep aside a number of first-come first-serve and walk-in only campsites, but do you really want to challenge the travel gods by taking that kind of a risk for a long weekend like Memorial Day (May 26th) or Independence Day (July 4th)?
What can get better than waking up in paradise!
Camping is one of my favorite activities to do in summer. The anticipation and excitement builds up months in advance. We do our research on which national parks to visit and which campground to stay at. Once we have decided that, it's time to make reservations. It might seem daunting at first, but after reading this post, I bet you will have your camping reservations done and calendars updated in a jiffy. Note that this post addresses camping reservations as applicable to state and national parks in the United States and Canada.
Camping in Redwood National Park, California
First things first, you need to choose the parks you want to visit in the spring or summer season. There are some parts of the country which are great to camp in spring. For example, Death Valley National Park in California is the perfect destination for hiking and camping in both winter and spring but it can get quite hot for summer.
Wabasso campground in Jasper National Park, Canada is one of the most gorgeous campsites we've stayed at! 
There are two main websites which handle online camping reservations in the United States. ReserveAmerica.com is used for State Parks. Recreation.gov is used for Federal Campground reservations. We look up both these websites to check availability for the parks we're planning on visiting. Camping reservations can be made up to 6 months in advance, but there are special booking windows for parks that are in high demand, for example Yosemite National Park. Depending on the timing of your visit, the booking window for Yosemite opens on a sliding basis 3-4 months in advance and is very competitive.
Sunrise at our campsite in Death Valley National Park, California
Some of our favorite national parks where we've camped are Yellowstone National Park, Grand Teton National Park, Death Valley National Park, Olympic National Park and Glacier National Park to name a few. Parks always have many campgrounds to choose from, but here are some factors that might help determine which campsite is best suited for you:
Size of the campsite – is it for a couple people or a big group? There are separate group campsites available at most parks.
Proximity of campground to conveniences like store, restrooms, shower rooms, amphitheater and hiking trails.
Privacy at campsite – some sites are out in an open meadow while some are shielded by natural vegetation and trees.
Location of campsite – some are next to rivers and lakes, while others might be adjacent to parking lots or near noisy highways.
Restrictions – some campgrounds are walk-in only, which means you will have to carry all the things you need to your site and cannot drive up in your vehicle.
There is only so much info you can gather from researching online when making a camping reservation, but a lot of useful resources (like TripAdvisor, Yelp and Campsite Reports) provide helpful reviews.
View of Bow River from our river-side campsite at Wabasso campground, Jasper National Park, Canada
Last year we fulfilled our dream of visiting two spectacular parks in Canada – Banff & Jasper National Parks. We visited in summer and wanted to make reservations as much in advance as possible to secure good campsites. Bookings can be made online on the Parks Canada Reservation Service website. Go to this link and choose your language of preference (English or French). All of Canada's national parks are listed on this website and the reservation process is easy to use. Remember that not all campgrounds will be open for reservations right now. For example, Jasper National Park starts taking reservations for some campgrounds from April 1st, 2014 and in the case of Banff National Park, from April 2nd, 2014. But Tunnel Mountain campground in Banff is already open for reservation and can be booked right now. Pacific Rim National Park in British Columbia will start taking reservations on March 24th, 2014. It's important to do your research and mark your calendars for the first day when camping reservations open up for the parks you want to visit, ensuring choice and availability. One of the best things about Parks Canada Reservation Service is that you can view the campsite photo on their website before you make the reservation! How awesome is that?
Early morning fog lifts in Jasper National Park, Canada
Local state parks are great places to spend the weekend exploring and hiking. As the weather warms up, getting away even for a night or two on a regular weekend is a fantastic way to unwind. We love exploring state parks in California! Some of our most memorable experiences have been camping in Big Basin Redwoods SP, Julia Pfeiffer State Park in Big Sur, Portola Redwoods SP and Henry Cowell Redwoods SP.
Camping in the Hoh Rainforest, Olympic National Park, Washington
There is always some hesitation before booking a campsite, since you can't really see it before you book it. But a great resource I've discovered is Campsite Photos. This website has helped me numerous times when I was trying to choose a campsite in a huge campground. The website has photos of each and every campsite at many popular campgrounds! So if you see a site that appears to be right next to a scenic mountain or river, you can look it up on Campsite Photos to find out what it looks like before making your reservation. Not all parks and campgrounds are listed on the website, but we hope more continue to get added!
Walking on the trail next to our campsite at Bow River in Jasper National Park, Canada
This year, we are looking forward to camping in Pinnacles National Park, Kirk Creek Campground which boasts stunning coastal views of Big Sur and at lush green Russian Gulch State Park near Mendocino. Hope this post has helped you with useful info and tips on planning for your summer camping trip. Let me know in the comments about your favorite park and camping experience.
Happy Hiking & Camping!
~ Trupti