Christmas in Mazama
Christmas Day needs to meet some requirements in our family. I know, we should be able to celebrate it anywhere because it's all about Jesus being born, but I have to admit that we really are happier when the day is snowy. Living in Seattle makes this a hit or miss possibility, so this year we decided to make sure there would be snow.
The idea originated with our teenage son Taylor, but my husband Jay and I quickly agreed that to make sure that our Christmas this year (the last one when Taylor will officially be living at home before heading off to college) was a snowy one. So, we reserved a cabin in one of our favorite places in the world – Mazama, Washington, in the Methow Valley. We knew it would be snowy there! (And it is – about 3 or 4 feet accumulation.)
We love Mazama so much that we each saved $1 a day – all year long – to pay for our vacation. And, I have to say, so far it is surpassing our expectations. The cabin (Ponderosa – one of the cabins/houses rented through the Mazama Country Inn) is gorgeous – high ceilings, light pine floors and trim, a stone gas fireplace, comfortable furniture, large windows, fully equipped kitchen, linens, laundry, beautiful master suite with soaking tub and stone-tiled shower.
Each of our boys has their own bedroom – a plus. The downside is that we had to leave our dog, Lily, with friends. And Emmy, our cat, is on her own (except for an occasional visit from one of our friends).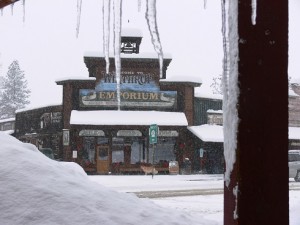 We arrived last night – having driven a Ford Flex (my car for the week from work) east on Snoqualmie (bare and dry) and north on Blewitt (snowy and making us glad for 4-wheel drive). The ride from Twisp through Winthrop and especially the last 10 miles north to Mazama was the snowiest—coming down and roads covered. I drove slowly, although testing it out proved that the car has great traction and would not slip easily.
After dinner last night, we walked in the dark – all four of us, with Taylor slamming into snow banks occasionally and all of us having an ongoing snow ball fight. We stopped at the Inn to rent movies – an old Bill Cosby comic act and "All of Me" with Lily Tomlin and Steve Martin. Then we came back and ate cookies and frangos while we laughed our heads off. This morning, Jay and Taylor took a lesson in skate skiing.
It's just what I wanted! Family. Time. Snow. Merry Christmas!
4 comments