Holiday Theatre in Seattle: 3 new takes and an old favorite
We have such a rich city when it comes to culture, and December is a month packed with productions. Here are four of my favorites – I recommend you take in one or two of them before the month is out!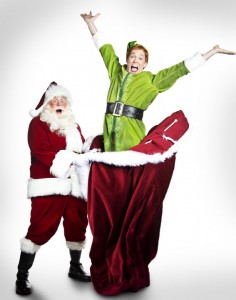 ELF—The Musical at The 5th Avenue Theatre
Based on the popular movie starring Will Ferrell, this musical fits into the 5th Avenue's annual family-fun production schedule. When I interview Matt Owen and he told me that the role of Buddy the Elf was the most physically challenging one he has ever played I was a little worried that the production would be over-the-top hyper and silly, which sometimes annoys me, but Owen brought a sense of sincerity to the part that kept it charming. The musical had many laugh-out-loud moments, even for my teenage son – always a good sign that pretty much anyone in your family is going to love the show. I particularly loved the tap-dancing, which there was plenty of through the evening.

Sherlock Holmes and the Christmas Carol at Taproot Theatre in Greenwood
Written by John Longenbaugh, this play premiered at Taproot two years ago. I saw it then, and again this year, and it has been tightened up a bit, picking up the pace and making it funnier. I thoroughly enjoyed the cast, led by Terry Moore in the title role. It's basically the Scrooge story, which Moore played at ACT for many years, but this time around Sherlock Holmes is Scrooge. If you like A Christmas Carol, you will like this. It's familiar, but has just enough that is different to breathe new life into a classic story and make us all see it with fresh eyes.

Black Nativity at The Moore Theatre
Based on the lyrics and books written by Langston Hughes, Black Nativity explodes with energy. Talk about breathing new life into the meaning of Christmas! You will see the Nativity of Jesus Christ in a whole new way through this show. The first half is the Nativity story and the second half is like a gospel church service. Every performance of Black Nativity features the powerful voices of Pastor Patrinell Wright and the Black Nativity choir – many of whom are also in the Total Experience Gospel Choir, backed by a soulful live band. Jamel Gaines, founder of Creative Outlet Dance Theatre of Brooklyn and choreographer for Seattle productions of The MAAFA and Sankofa Theatre brings his award-winning dance styles to this year's production.

Nutcracker at Pacific Northwest Ballet
It's the classic Christmas ballet and nobody does it better than our own Pacific Northwest Ballet. I go every year and love everything from the sets to the costumes to music to the dance. Be sure to sit in a new place if you've seen the production before – you will catch things you haven't before. And go early so you can get up close and examine all the wonderful statues and other Nutcracker memorabilia in the lobby. McCaw Hall is gorgeous and PNB has set up several photo opps for attendees, including a mock stage backdrop and a large, decorated Christmas tree. It's the quintessential holiday experience in the Northwest!
Now that I've shared some my favorites, tell me the shows you love to attend during the holidays!
1 comment