The Sweetest Sou'wester: Stay in a Vintage Trailer Amidst Giant Pines On Sandy Shores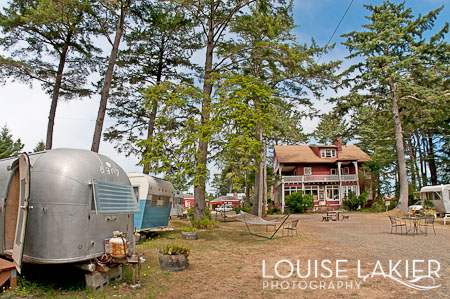 In the town of Seaview, Washington along the Pacific coast stands the
Sou'wester Lodge
, a resting spot and place of repose full of history and creativity. I was excited to visit the lodge that includes a vintage trailer park, cabins and an RV camping ground. I have photographed a number of remodeling projects home built by inspiring and go get em types, and many of them have lived in a vintage trailer on the premises during construction. It had occurred to me that a campground full of Airstreams would be a beautiful thing. And after visiting the Sou'wester, I can assure you it is.
The Lodge building was originally built in 1892 by US Senator Henry Winslow Corbett as a vacation home. It became public domain in the 1940's. The second floor was divided into 4 guestrooms between the 40's and 50's at the same time the cabins were added. A historic beach side vacation spot for Portlanders, Seaview was a town of summer homes and high society life with vaudeville shows, rose gardens, tea parties, and stable dances held on the property. Thandi Rosenbaum and Anastasia Corya purchased the Sou'wester at the end of April 2012 and have been busily restoring the buildings and the trailers to their historical glory with a twist of contemporary.

The collection of vintage trailers was started by the previous owners of 32 years, Len and Miriam Atkins. They hosted artists talks, evening conversations, musical gatherings, and encouraged free thinkers and visionaries to linger. From the beginning the Sou'wester has been an alternative retreat for musings and inspirations.
I asked Thandi if she knew the history or the origins of the trailers: "I don't know very much at all about the history of the trailers or how they got to the property. I only know that Len and Miriam, the previous owners, had some sort of epiphany when they realized that trailers in general represented an affordable way for many people to achieve the dream of home ownership. Finding the luxury models of the 50's when travel trailers were not looked down upon, but seen as a highly esteemed way of life that afforded freedom, speaks to the transformation that 'mobile' living has undergone. The craftmanship was superb in these trailers, both because it borrowed from the airplane manufacturing business which had recently found itself with much free time after the war, and also because of the high end clientele it was attracting. It transformed their judgement about trailers into an appreciation and hence the collection began."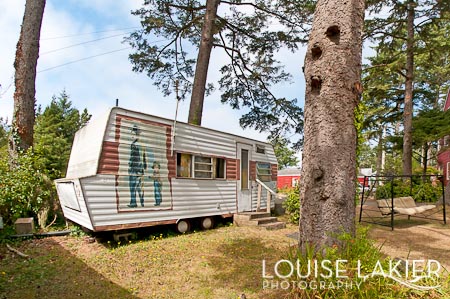 The Tramp Tower-A 60's Leighton with a mural of Charlie Chaplain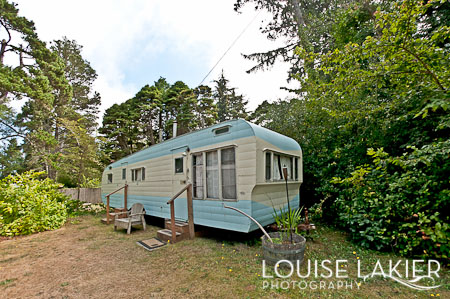 1953 Zelmar Cruiser
1950 Spartan Manor
The Potato Bug – 1953 Airstream Wanderer
I was delighted to stay in the African Queen. Thandi and the previous owners are originally from South Africa and ironically so am I. I felt a bit nostalgic amidst the beautiful bold prints and wire artwork. The decor is from Thandi's collection of fabrics from Mozambique and recycled tourist art from South Africa. The African Queen is a 1956 Tri-level Pacesetter. It is a park model, a trailer built to be towed and placed more permanently. The African Queen is spacious. There is a main bedroom upstairs at the back end, a loft space across from it and a room below with twin beds. I absolutely loved that the trailers come with old school record players, and it was put to good use while photographing. While sitting and working at the table a man popped his head in to take a peek, he was looking for his pick of trailers to stay in during his company retreat.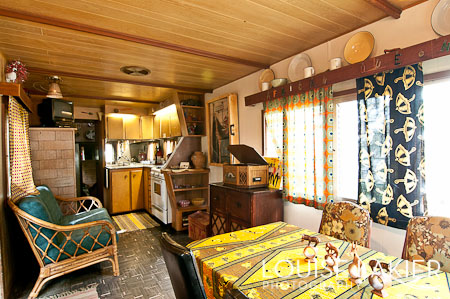 The new owners plan to continue the tradition of free thinking on the property by offering music, yoga workshops, and writer/artist retreats. A hot tub and sauna are on the amenities list for warmth and relaxation after a day spent clamming or mushrooming in the chilly ocean air. The kitchens are in the process of being certified to offer home-cooked locally sourced meals for room service. Creations by visiting chefs will keep the menu fun and fresh. A yoga intensive is currently underway. Their goal is to grow and develop more wellness programs.
"This endeavor is very new to us, so we have fantasized about its development in many directions but the common thread is that we've always seen it as more than 'just' a place to stay. We've had musical guests most weekends and that has brought our guests together. We've organized classes and held yoga workshops. friendships have been forged over roasted marshmallows and connections made by bringing together other vintage travel trailer enthusiasts at our Rally.  This winter we plan to hold an independent film festival and a chocolate conference. During the slow winter months, its almost impossible not to invite artists to come contribute to the development of the property. It's also such a quiet and peaceful place to work, we have already entertained several requests of people wanting to come here to write or work on their music or other projects. These kinds of projects have a synergistic effect on the property."
If you are a writer, an artist, a poet, a free thinker, a philosopher, or a vintage trailer lover, this place is for you, it resonated in lovely harmony with my free spirit. Bring your ideas and your free time. Plan to stay a night or longer. Bring your friends, your family, or your employees for a work retreat. Take long naps in the hammock, meet someone new, listen to music, relax and take in an awe inspiring sunset at the beach.
To see more images from the Sou'wester Travel Trailers, Cabins, and Lodge visit the Sweet Sou'wester Album on my Facebook Page.
To learn more about the events at the Sou'wester Lodge visit their blog and Facebook Page.

Seaview on Dwellable
Add a comment