Portland Filmmakers Sarah Henderson & Erich Lyttle Premiere Their New Documentary: We Grew Wings
Executive Producer Ellen Schmidt-Devlin partnered with directors Sarah Henderson & Erich Lyttle to create We Grew Wings.
I was already excited about my up and coming visit to Portland. It had been too many years. When Sarah Henderson and I connected via phone to catch up and she mentioned the dates of the premiere, the planets aligned as I would be there.
I first met Sarah two years ago, on an organized trip to Ethiopia through SalaamGarage. Our focus as citizen journalists was to create and publish a story on Obstetrics Fistula working with the Hamlin Hospital. Our united mission: to raise awareness and promote a cause to action for eradication. I will revisit this experience in a later post to share the outcome and to provide you with details and information on an upcoming exhibition of the work in NYC.
In Ethiopia, Sarah shared with me her excitement around her current project, a documentary about Joan Benoit Samuelson There is No Finish Line. A year later, I was delighted to receive a copy. Joan Benoit Samuelson has been an icon for making history, breaking into the scene, and demonstrating the untapped potential in women for long distance competitive running.
The website devoted to We Grew Wings will give you lots of background information. The film shares the story of the Oregon Women's track & field team's birth and rise to glory. The documentary brilliantly weaves the past and the present with film clips, archival images, contemporary interviews, and catch your breathe action photography. I cried, I laughed, I learned and I smiled. The filming style fills the senses with the voices of the women, up and coming and retired, the powerhouse bursts of strength and speed, the motion, the emotion, the failure and fatigue, the camaradierie, commitment, and intensity of the women who shared the journey. It is a movie that will inspire and awaken in you the realization that we are all part of a team. Sharing these stories with young and old will remind us all there is no finish line and there is still time to blossom, the venue and the sport may change, but the drive and determination remains the same.
The film inspired me to plan a trip to Eugene, Oregon to see the place where history was made, to add sprints to my workouts, and to sign up for my next marathon. I encourage you to see it and to let me know how it inspires you!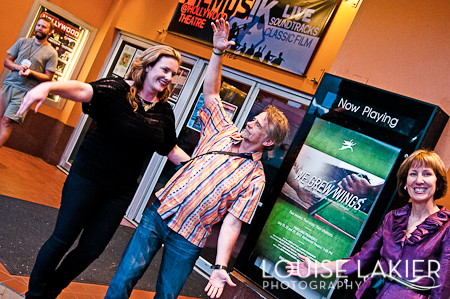 Ellen Schmidt-Devlin, Sarah Henderson & Erich Lyttle grow wings in front of the Hollywood Theater in Northeast Portland, Oregon.
The Hollywood Theater in Portland will have additional showings of the Documentary on July 22nd and 29th. All shows begin at 7pm.
2 comments