Chef Mixes Old and New at Hacienda Tres Rios in Riviera Maya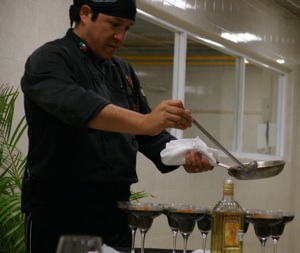 As the swinging doors to the kitchen are pushed open, I catch a glimpse of the staff busily setting up their stations in preparation for the dinner rush. We're quickly led to a behind-the-scenes, private table by the resort's head chef, Oscar Orbe, and shown our seats. Though devilishly handsome, with a magnetic personality to match, I don't expect much out of Orbe's food. I've learned that resort food, especially in the overly touristic cities of Cancun and Riviera Maya, is at best an easily digestible selection of Americanized-Mexican cuisine. In fact, one would usually be hard pressed to find a traditional Yucatan dish like Queso Relleno, a cheese ball stuffed with chopped meats, bearing witness to the Spanish and Dutch influence in the region, on any hotel menu. It's not that I'm writing Orbe's 7-course-tasting menu off from the start, I'm merely managing my expectations.
We're at Hacienda Tres Rios, the first and only family-owned and operated eco-resort in Mexico, on a press trip. It's the first night of our stay so everyone is eyeing each other warily, ready for the barrage of questions that are inevitably asked on trips like this: "Who do you write for? Where do you live? What's your favorite destination?" More often than not, travel writers have at least a few things in common, so conversation is typically amicable.
One-by-one, everyone takes their obligatory turn in the spotlight, politely sipping the Mexican wine and re-playing the flights and itineraries of the past 24-hours. Just as the conversation begins to wane, the first course arrives. It's beautiful. A delicate mozzarella purse, filled with minced meat, a graceful nod to Yucatan culture mixed with a quiet refinement. Next up, a roasted zucchini/red pepper/eggplant tower, balanced perfectly in scope and seasoning, lightly covered with a creamy sauce. Then, a pureed black bean emulsion, topped with avocado foam, chorizo and a touch of (table-side) flambéed tequila. On and on, through braised lamb meatballs and grilled beef with gorgonzola cream, finishing with a rolled phyllo dough "cigar" filled with sweet eggplant and garnished with a molecular-gastronomy'd "tomato"; actually a hard sugar shell that oozes warm caramel when broken open.
By the end of the meal, I'm not only surprised, I'm contemplating whether I've ever eaten anything quite so spectacular. Above all, I'm dying to know where Orbe came from and why he's here, when he could so easily be stearing the ship in an award-winning restaurant kitchen anywhere in the world. It's not until later that I find out: he already has.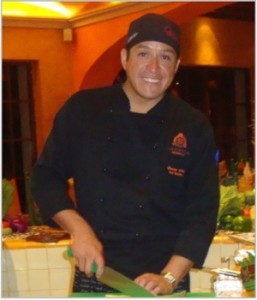 Orbe grew up in Mexico City and has spent the last 10 years traveling, studying and working in a number of metropolitan cities including New York, Montreal, Hollywood and Santo Domingo. In the Dominican Republic, Orbe owned a number of restaurants and was named the four-time consecutive winner for Chef of the Year, an award given by the Secretary of the State of Tourism. In addition, he was also the seven-time winner of the DR Gastronomic Festival, setting the record for the highest number of first place prizes by one chef. But when HTR offered him full run of all kitchen operations and the opportunity to come back home to Mexico, he decided it was time.
At the resort, it's evident that Orbe brings his years of experience to the plate. Leaning heavily on the flavors and bounty of the Yucatán, he is infusing traditional cuisine with cultural influences from faraway places like Italy and Asia, learned from his varied work in the U.S. and Canada.
In addition to facilitating two 7-course chef's tastings each evening, Orbe operates the hotel's five specialty restaurants, two delis, three bars and large-scale events and room service programs with an impeccable dedication to detail, quality and innovation. A proponent of the 100-mile diet, he is passionate about honoring Mexico's farmers, producers and distributors. His all-Mexican kitchen staff has been trained to follow his brilliant lead on customer service and environmental sustainability, evident by the chant they proudly shout at the beginning of each meal service: "A ver señores y dice. Calidad! Servicio! Tres Rios mi compromiso! (Quality! Service! Tres Rios is my commitment)" [click for video]
At capacity, the facilities accommodate over 600 guests and Orbe has the ability to make all of them feel uniquely special. Because of his looks, it's easy to see why the women flock to him. But Orbe, an equal opportunity flirt, woos even the men. After taking one of his packed tequila tasting seminars, my boyfriend swooned: "Did you see how he made eye contact with me during the parts he knew I'd be interested in?"
On any given day, he is reminiscent of a culinary illusionist, seemingly everywhere at once: poolside, delivering hand-made custom cocktails, chatting with a group of international businessmen in the lobby, directing a class on the history of black corn in Mexico, efficiently dictating the set-up of an outdoor event. One wonders how he has time to sleep, much less find the energy to re-craft his restaurant menus every 3 months or to battle his wife – also a chef – for kitchen bragging rights in their Playa del Carmen home. A father to two children and new dad to a Labrador puppy, Orbe found time in his busy schedule to answer a few questions:
Where do you find inspiration for your dishes?
I draw inspiration from all the different people that come through the resort. I don't like to have just one restaurant; I really enjoy the challenge of having seven concepts going on at the same time – from Mexican to Italian to Asian, I'm able to have fun with them all.
Do you have a favorite type of cuisine?
Not really, I'm really very easy when it comes to food. I enjoy simple food but I'm definitely a meat-lover. Anything with meat or marinades and I love the grill!
How would you define your cooking style?
When you try something, it really has to melt in your paladar (on your palate). If that doesn't happen, then it's not good. It's that simple.
You and your wife are both chefs. Who does the cooking at home?
We both cook! We've never talked about it but it's funny because from the beginning it's been whoever gets into the kitchen first. The first person starts off with a little amuse bouse, then a cocktail and it just unfolds from there.
What would be your last meal?
I enjoy so much food. That's a tough question! It would have to be a posole…definitely. My mother does one so well – she makes it with pork, corn, different types of vegetables, oregano and chile. Yes, a very good posole.
2 comments