Top 5: Seattle's Best Watering Holes
After living in Seattle for the past 9 months, I have developed a theory. The grey skies are really the universe's way of telling me to hole up in a comfortable locale with a glass of something delicious, an appropriately grim, but uplifting, Northwest essay (see: You Moist Remember This by Tim Robbins) and/or a prime people-watching seat. On any given day, you can find me at one of these places, shivering in my fleece pullover and ordering another round for the table.
This wood-heavy Madrona wine bar is cozy, quaint and expertly decorated with an attention to detail that I can only dream of one day possessing. Owned by a creatively-inclined husband and wife duo, Bottlehouse is an old home turned imbiber's paradise with an accommodating selection of local and international wines and brews. For the odd times that the weather decides to cooperate, the backyard patio is outfitted with umbrella'd tables and secluded from the street with wooden fencing, strategically placed shrubbery and mood-setting lights. Happy hour is Wednesday – Sunday from 5-7PM. Bottlehouse is closed on Mondays and Tuesdays.
Bottlehouse: 1416 34th Ave, Seattle, 98122
, 206.962.1619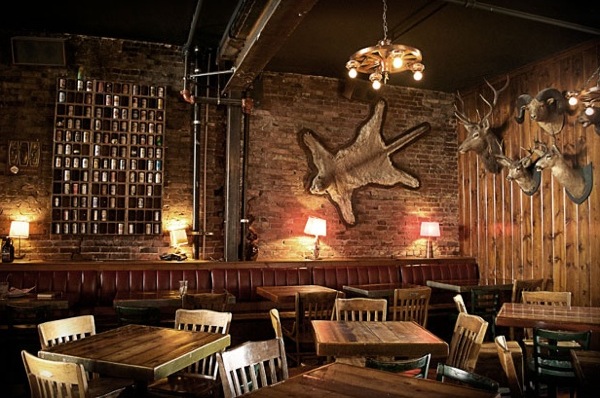 Owned by Seattle superwoman Linda Derschang (also the owner of Linda's Tavern, Smith and Oddfellows Cafe-Bar), King's is a taxidermy-inspired, brick and wood-paneled hipster's dreamland. Fully stocked with working skee-ball machines, cheap drinks and messy eats like the After School Special, a hormone/antibiotic-free burger topped with peanut butter and bacon, this bar is all about having a good time. During happy hour (everyday from 5-7PM), King's slings Hamm's for $2 and drafts and wells for $3.
King's Hardware: 5225 Ballard Ave NW, Seattle, 98107, 206.782.0027
For a more upscale drinking experience, hit up Zig Zag Cafe, located on the Pike Street Hill Climb behind the Pike Place Market. The bar has been recognized for stellar cocktails and exceptional bartenders by a number of esteemed publications including Bon Appetit, Food and Wine Magazine and… Playboy? That's right, Playboy recently named bartender Murray Stenson one of the top ten bartenders in America and credited him with resurrecting a classic 'tail, called the last word, in bars across the world. Zig Zag's employees are well-versed in cocktail culture and it shows – their award-winning menu features hard to find spirits and old standbys but don't be afraid to ask for something special. Stenson works Tuesday through Friday and happy hour is 5-7PM on weekdays.
Zig Zag Cafe: 1501 Western Avenue, Seattle, 98101, 206.625.1146
Even though I can't drink beer, I can appreciate a local start-up dedicated to sustainability, community awareness and of course, damn good beer. I've had many a beer aficionado tell me that Fremont is churning out some of the best brews in town. And why shouldn't they be? The second largest hop growing region in the world is located right here in Washington state. This small time operation opens up the urban beer garden – their industrial, concrete-floored factory furnished with the old Ballard High School bleacher boards and red leather seats – Thursdays through Sundays. They've got plans to can their beer eventually but for now, you can pick up growlers, kegs and merch all week long from their Fremont (where else?) location.
Fremont Brewing:
3409 Woodland Park Avenue North, Seattle, 98103, 206.420.2407

This underground gem filled with Luche Libre (Mexican wrestler) paraphenila will assault all your senses as you enter. Part music venue and part black hole combine with a photobooth, a foosball table and a vending machine pushing out
MTV
Raps trading cards to guarantee a night of debauchery and good times. Relocated from a spot on Pine Street, the "new" Cha Cha is located in the downstairs of Bimbo's Cantina, and serves up stiff drinks (their margarita is my favorite), 6 different drafts and a whirlwind of craziness. Happy hour is 5-8PM, Tuesdays through Saturdays, and all day Sundays and Mondays.
Cha Cha Lounge: 1013 E. Pike Street, Seattle, 98122, 206.322.0703
Photo Credit: King's Hardware: www.kingshardwareballard.com, Zig Zag Cafe: Jamie Boudreau via www.zigzagseattle.com, Cha Cha Lounge: Dana Robinson via Flickr
1 comment