storytime
it is her favorite time of day. a time when she looks, she listens, she learns. she studies the giraffes and piggies and kangaroos; and elephants and penguins. she hears the words for kisses and hugs; and mommy and daddy. she contemplates all the wonderful things that babies do – play and sleep; and crawl and eat.
she knows of all the places that babies get kissed by their mommies – hands and fingers; tummy and toes; cheeks and ears and nose. she hears about love, and life, and the day she was born. that day is an especially important day – all over the earth, the sun and moon and animals all celebrate: they all are glad that she has arrived.
it's storytime. it is my niece's favorite time of the day. (well, ok except maybe for her milk feedings.)

baby annika with auntie debby
i just traveled again to san francisco to visit my sister, her husband, and their now-five-month old, now-14-pound, big-blue-eyed beautiful baby girl. the last time i saw her, annika was really tiny (but mighty), having been born at only 4 pounds, 7 ounces. but now she is a chunky, healthy, happy, and i must say, a truly adorable creature.
her mommy reads to her every day. and annika really pays attention. she is fascinated with the pictures, the sounds, and the rhythm of her mother's voice. she looks intriguingly at the books. all while she wiggles, and giggles, and smiles.
it was certainly a delight for me to watch this in action. and, i even got my turn at reading to my niece.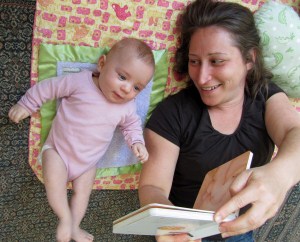 after storytime, annika is swaddled, and kissed, and put down in her bed. as she is sleeping, i wonder if she dreams of giraffes and kangaroos; of kisses on her tummy and toes; and of the divine day that she was born.
sweet travels!