Divine Love
"…love between mother and child is the highest experience, the closest to divine love…" – Lena Lees
I'm an auntie!! Yup, my sister and her husband's travels into pregnancy resulted in a beautiful, lovely, cute, adorable, precious, amazing baby girl!! (Of course this list of adjectives could go on.) And, I recently had the opportunity to spend a week's worth of my vacation time with my new niece.

mommy love

Annika was born the day before Valentine's Day, about 3 weeks premature, at a small 4 pounds, 7 ounces. But from her first moments, my sister described her as "tiny but mighty." Being very healthy, and having an ample set of lungs proven by her crying, Annika was little, but definitely a strong and grand being.
My week was spent as Annika turned two months "old," and by this time, 6 pounds 9 ounces. To me, she was still tiny but mighty. Having no kids of my own, I got to see this tiny person, with a tiny body, with all ten teeny fingers and all ten teeny toes. A head that could fit in the palm of her daddy's hand. And a body filled with a miniature heart, miniature lungs, other miniature organs, and a miniature tummy, which kept getting filled with milk.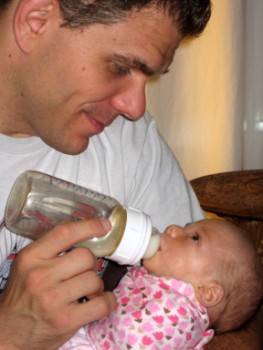 daddy love
It was amazing to me. A miracle. The miracle of life. I know that people all over this world have this experience, but this was my first real close and personal encounter with this phenomenon. And I thought it was absolutely wonderful!

auntie love
As I watched my sister breast-feed her daughter. As I smiled when my brother-in-law played with his daughter. As I observed baths being taken ever so carefully. As I witnessed the swaddle technique of wrapping baby Annika. As I laughed when diapers got filled with poopies. As I listened to my sister sing gentle songs to my niece. As I even helped my sister by doing dishes and laundry. And as we took walks together as Annika slept in the stroller…I thought to myself – now this is the best vacation that I have ever had!

divinely adorable
But it was more than all that. It was the caring, and the support, and the deep love that occurred that made me the happiest of all. Not only between the parents and child, but also between my sister and her husband. They totally cooperated on taking care of their creation, while also being able to take care of themselves. It was all so beautiful to me – to experience all this divine love.

divine love
I know that many more of my future vacations will be spent visiting my niece. And I look forward to watching her grow, and seeing how her life unfolds, especially knowing that she has the most loving parents.
Oh, by the way, baby Annika has two middle names…Catherine Divine…
"People need a parental divine love which will attend to them above all else, no matter what happens." – Masahisa Goi
Sweet (and Divine) Travels!