Mike, the final backpacker to arrive at the Indian Bar shelter that day, was on a much needed (his words), and much deserved (my words), vacation. From Yelm, Washington, and a member of the United States Coast Guard, Mike had returned six months ago from serving in Iraq for 13 months. So, when I say much deserved vacation, I mean it!
Mike was not only proudly encircling Mount Rainier by himself, but he was also taking only 8 days to complete the Wonderland Trail. I must say that that made quite an impression on me. And, like all of us in the shelter that day, he was in good spirits, not only in spite of the rain, but also because I am sure that he was glad to be back home!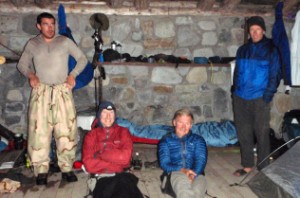 Mike with Paul, Don and Glenn (photo by Melissa)
Now that the eight members of the Indian Bar shelter group were all together, dry, eating dinner, and getting ready for sleep, I decided to ask everyone what the highlight of their experiences has been during each of their backpacking trips.

taking notes for my blogs (photo by Melissa)
The scenery was definitely a highlight for everyone. Places, such as Klapatchie Park, were "like a picture postcard," Sheri declared. Being able to see the snow-covered Mt. Rainier itself is always a goal for anyone. Glenn, Paul and Don said that the beauty of their entire trek "has taken them." And I myself thought that Indian Bar was one of the most spectacular areas on my trip.
On any given day, with abundant trees, colorful wildflowers, enticing mountain hills, cold white glaciers, blue lakes, rushing rivers, changing skies, and majestic Mt. Rainier, how can anyone not help but completely enjoy themselves on an adventure such as this!

Mt. Rainier with clouds and the moon (photo by Melissa)
But more than the scenery, it was the people that each of us has met on the trail that has made an impact on us. For example, Chris and Sheri said that all along the way, each and every day, they had met some really great and interesting people.
A couple of days earlier, Mike had met a 70-year old man, who was backpacking by himself. Mike could not only see the nostalgia on this man's face, but he was inspired by this man's age and abilities.

the MRWTIB shelter group (photo by Debby)
Melissa and I also met an amazing group of trail runners a few days prior. Keeping in mind that they are fully supported and don't have to carry backpacks, they still will have had the accomplishment of completing the entire 93 miles of the Wonderland Trail in only three, yes three, days!
For me, meeting all these people in the shelter that day, especially Mike, whom I thanked in person for his service in Iraq, was a great way to spend a layover day in Indian Bar.

the scenery leaving Indian Bar (photo by Melissa)
Glenn, Paul and Don commented that we are all kindred spirits, all of us who hike the Wonderland Trail. We are all people doing the same thing, and thus the instant camaraderie, support and kindness makes being out in the wilderness for days on end an awesome experience!
Sweet Travels!
Photos by Debby and Melissa