Haircut #4. Sharkey's Cuts for Kids. Little Bird's last haircut was ten months ago. It was time.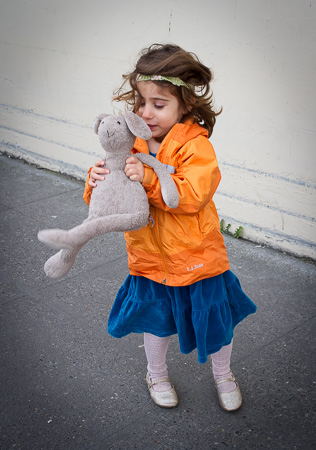 The before picture
Remind you of a certain former U.S. professional tennis player?
Off we went on our Grand Slam adventure to a new salon. Bunny got a piggyback. This was a big occasion.
Sharkey's is named for…you guessed it. Mr. Shark was the second big-toothed dude we've encountered in the past week.
I'd heard about Sharkey's from a friend (Thank you, Sara!) who said she'd had a great experience there. Her opinion was echoed by many others in Yelp reviews. Seemed like a good bet. Nevertheless, I felt a bit anxious. My Little Bird is not the most patient of clients. She has trouble sitting still. In fact, most of the time, she has trouble sitting. At all. I crossed my fingers and hoped for the best.
First we met our stylist (Thank you Julie!) and Little Bird selected the stylin' ride of her choice (pink Barbie Jeep). Then a hair wash.
Next, the hair cut. Per usual for my squirmy kiddo, we weren't but two snips in before…Are you done? When do I get my ballon? And my lollypop?
Blow dry, followed by Princess braids. Julie is fast. I can count on one hand (less than one hand) how many times Little Bird has worn braids. Cute little clips attached them to her swanky shorn mane.
A spritz of cupcake-scented hairspray (I kid you not) and a sprinkling of glitter and my glamour gal was ready for…
Her mini-mani. She selected a few blue nail polishes. And a sparkle polish to top it off. Of course.
Little Bird also got to choose one jewel to adorn her finger, from a selection of big, beautiful blingy, rings.
And then from thumb to pinky all ten of her nails got a  coat of polish and…more sparkles. Bunny was the epitome of patience throughout.
Finally, the moment she'd been waiting for. Not the haircut. Not the braid. Not the glitter. Not the mani. Not the ring. The balloon!
And the lollypop!
All of this set me back a mere $28 which, when you add up every little treat Little Bird scored, seemed pretty reasonable. And her hair–ADORABLE!
The big bonus (in my opinion), with every haircut Sharkey's donates to Seattle Children's Hospital, Make A Wish Foundation or Big Brothers Big Sisters. If you pay in cash–which I did–they will double the donation.
With a kiss to Mr. Sharkey, we were out the door and homeward bound. Bye-bye Sharkey's…we'll be back.
Take the road less traveled, Beth
Postscript: She unclipped the braids before we got home and started to peel off her nail polish. But she still looks pretty darn cute.