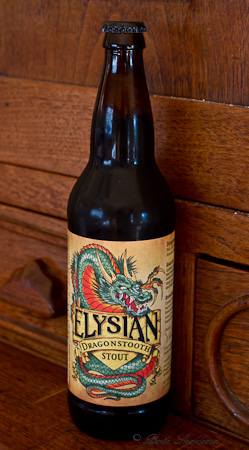 What would Superbowl parties and tailgates be without chili? And what would chili be without endless debate: Beans (and which beans)? Pork, beef, or both? Vegetarian? Vegan? Spices (and which spices)?
Then there's beer. Well, of course, you say. But what about beer in your chili? Absolutely!
Beer will boost your chili. It helps tenderize and add flavor to meat. Or if you decide to go meatless, beer will still take your chili up a notch. I suggest a stout or smoked porter. Both are boldly flavored, malty dark beers that pair perfectly with any chili recipe.
Smoky sausage and smoked paprika are the perfect compliment to this hearty chili which pairs nicely with a full-bodied Syrah or Zinfandel, and–of course–beer (note that Elysian's Dragonstooth Stout comes in a 22 oz bottle and only 12 ounces is called for in the recipe, which means there's a bit left over for drinking, assuming you don't consume the rest of the beer while cooking). I served our chili with more grated Beecher's Smoked Flagship cheese, guacamole, salsa and sweet potato chips which added a bit of sweetness to balance the smoke and spice.
Superbowl Sunday: Smokin' Seattle Seahwawks Stout Chili Recipe
For the chili:
2 Tbsp olive oil
1 cup sweet white onion, chopped
1 large jalapeno, finely chopped
1 large red bell pepper, chopped
 1 lb Andouille or other smoked sausage, raw, removed from casing (roughly 4 sausages, depending on size)*
1 lb ground lean beef *
1-2 15 oz cans beans (optional: some folks like 'em, some don't)/I chose mixed: kidney, pinto and black beans
4 cloves garlic, minced
12 oz stout or smoked porter (and make that a Seattle Stout, like Elysian Dragonstooth Stout!)**
14 oz diced tomatoes
1 tsp smoked paprika (or as smoky as you like it)
1 tsp cumin
1 tsp black pepper
2 Tbsp Worcestershire sauce (I didn't have this on hand and it tasted great, so I think you could go with or without)
1 Tbsp molasses, (not black strap)
Garnish: chopped chives or cilantro
*This is a meaty chili. You can adjust the amounts to suit your preferences. For my vegetarian friends, you could increase the vegetables (adding whatever suits your fancy) and beans.
**I found that on night #1, the chili–while very tasty–ended up with a bit more liquid than I thought it would. But on night #2, all the stout had been absorbed (and, in my opinion, the flavors had mingled and were more complex). So my suggestions are: make the chili one night ahead and reheat; lower the amount of beer (but why would you want to?); let the chili cook a lot longer than the recommended cooking time; or, accept that your chili will be a bit watery.
For the topping:
1 cup cheddar cheese, shredded (I used Beecher's Smoked Flagship for more smoky goodness)
½ cup cilantro, chopped
¾ cup crème fraiche, yogurt or sour cream (I prefer the tang of crème fraiche or yogurt, but I won't keep anyone from their sour cream)
Directions
In a large pot or Dutch oven, heat the olive oil. Add the onion, jalapeno, and bell pepper and cook until onion softens but isn't browned, about 5 minutes.
Add the sausage and beef, cook until meat starts to brown. Add the garlic, cook for about 30 seconds.
Add the beer, beans, diced tomatoes, smoked paprika, pepper, cumin, and Worcestershire sauce. Allow to simmer for at least 30 minutes or until thickened.
Pour into bowls. Top with cheddar, and crème fraiche.
Garnish with chopped chives or cilantro.
Serves 4 hungry Superbowl fans.
Take the road less traveled (and GO HAWKS), Beth