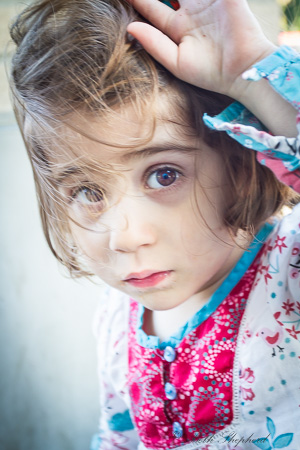 My daughter's hair is her crowing glory. She has a thick, lustrous, curly mane. It is one of the first things people comment about when they meet her: "Oooh, her hair."
It took me a year to cut her hair for the first time and another year passed before I had the courage to cut it again. As a curly girl myself, I know the drill: condition after shampoo, leave in conditioner, detangler before brushing, special brush. But after morning upon morning where we battle the brush, I decided it was time to really cut her hair.
Off we went to my stylist for her third hair cut. We even managed (with a lot of coaxing) to get Baby Bird's consent for a hair wash before her cut, and a blow dry at the end. The only thing we forgot was Mr. Lion, our faithful companion on the previous two visits: "Oh no, mama, we forgot lion!"
Six inches fell to the floor, a dusting of sparkles was the frosting on the cut, and voila. Third time's the charm!
This morning when I went to brush her hair, it was smooth and easy as BUTTAH…until I hit the section where she'd stuck a fork full of macaroni and cheese in her hair. Next up: how to use utensils.
Before picture.
"You done?" was the question asked repeatedly from the minute she got in the chair.
The hair wash pitch–she was not buying it.
First professional hair wash success.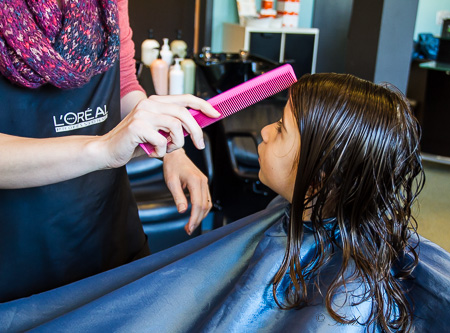 The pink comb garnered extra brownie points.
Snip. Snip. Deer in the headlights.
Bye, bye hair.
First blow dry. What once was curly, now is straight.
Almost done.
Helping clean up.
The do.
Out the door.
Steamed milk and banana bread to celebrate.
Really big piece of banana bread.
Really small piece for mama.
Take the road less traveled, Beth