Four years ago, this week, Big Papa and I visited Armenia for the first time and ate Armenian Matnakash Bread. This bread was our introduction to Armenian cuisine. I remember we arrived late at night and were very hungry. On the dining room table in the apartment where we were staying, our host had left food for us to snack on: wine, tiramisu, and Armenian Matnakash Bread.
Matnakash is a traditional soft  Armenian bread. The word matnakash literally means finger draw or finger pull, referring to the way the bread is prepared. Matnakash is made from wheat flour with yeast or sourdough starter. It is shaped into oval or round loafs with longitudinal or crisscrossed scoring. The characteristic golden or golden-brown color of its crust is achieved by coating the surface of the loaves with sweetened tea essence before baking.
In Soviet times, Matnakash was honored. In the 1930s, Soviet Armenia wanted to mark the new communist country with a more modern looking bread. The matnakash became a mass-produced urban bread. Even the bakers' patterns on the bread was re-interpreted to fit the soviet agenda. It resembled a plowed field with rows and furrows. The bread's rim was interpreted as an agricultural field and its imprinted lines as tilted rows.
Wherever we went, in grocery stores, bakeries and restaurants, we saw Matnakash bread. It is as much a staple today as it has been for generations. Matnakash will always have a special place in my heart because it was–literally–my first taste of Armenia.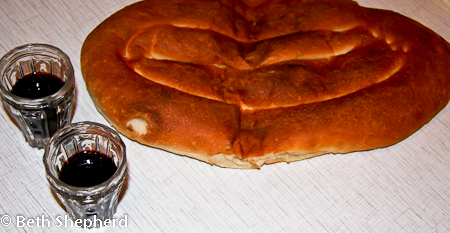 Matnakash (makes two loaves)

Ingredients:
5 cups bread flour
1 teaspoon active dry yeast
1-1/2 teaspoons salt
1/2 teaspoon sugar
2 cups warm water (temperature about 105 -110 degrees)
3 tablespoons extra virgin olive oil
How to:
In a bowl, add all dry ingredients, stirring to combine. Add the water, and mix until a soft dough forms. On a lightly floured surface, knead the dough about 20 minutes.
Place dough in a clean, lightly oiled bowl; cover with a clean towel and let it rise in a warm, draft-free place for about 1 hour.
Moisten your hands with water, punch the dough lightly; stretch and fold the dough four times. Then cover it again and leave it in a warm place for another 30 minutes.
Divide the dough into 2 equal parts.
On a large open baking pan, pour the olive oil and stretch open the dough (one piece at a time) into an oval shape — making sure both sides are covered with oil.
Let the dough sit for another 15 – 20 minutes.
Preheat oven to 425.
Fold all along the rim of the oval breads, gently tucking them in.
With a fork, knife, or fingers, gently give the appropriate design of a plowed field — 5 to 6 lines lengthwise and 3 to 4 lines crosswise.
Place the shaped dough on an baking pan (no grease) and bake until golden brown (about 20 minutes).
Take the road less traveled, Beth
Check out more comfort food on Wanderfood Wednesday!