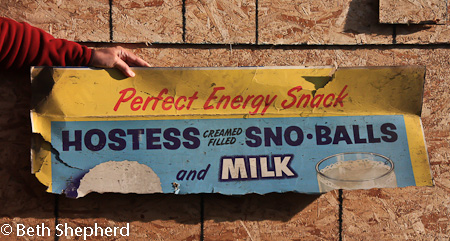 Oh Hostess Sno-Balls, I knew thee well. Sugary chocolate cupcake infused with an angelic center of fluffy uber-sugary cream. In my youth, how I loved to peel off your puffy, pillowy outer marshmallow layer, and relish the crunchy, coconut goodness sprinkled on top.
Since the closure of all Hostess operations, you fade to a childhood memory. Sadly, now I can only buy you to the tune of $4.00 a Sno-Ball on Amazon.com  or bid for you on eBay. I weep.
<iframe src="http://rcm.amazon.com/e/cm?t=pampeandpakhl-20&o=1&p=8&l=as1&asins=B0027AWDO2&ref=qf_sp_asin_til&fc1=000000&IS2=1&lt1=_blank&m=amazon&lc1=0000FF&bc1=000000&bg1=FFFFFF&f=ifr" style="width:120px;height:240px;" scrolling="no" marginwidth="0″ marginheight="0″ frameborder="0″></iframe>
With your passing, I also mourn the demise of [now] dearly departed Ho-Hos, Twinkies, Ding Dongs, Cupcakes and Donettes. But in an ode to your past, I share a bit of [historic] information on how you, dear Sno-Ball, were made:
<iframe width="560″ height="315″ src="http://www.youtube.com/embed/lcStFrp1xow" frameborder="0″ allowfullscreen></iframe>
And how lucky am I, sweet Sno-Ball, that whilst tearing off the back of our home during a remodel three years ago we found a reminder of the sweet treat I once knew, an historical artifact [circa 1940s?] tucked into the ancient [circa 1898] walls of our house. How fitting it is that you once insulated both the home I now live in…and my belly.
Wanna Ho-Ho-Ho-Ho at more deliciousness? Check out Wanderfood Wednesday!