How to fly with a toddler and still make friends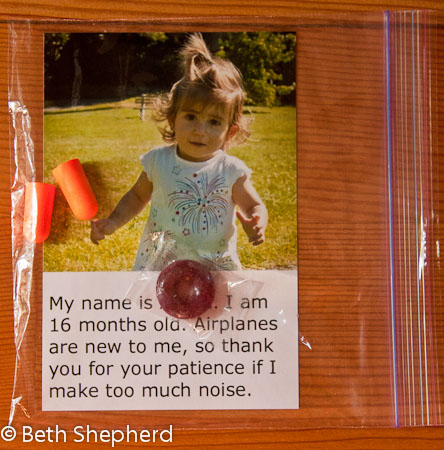 Big Papa, Baby Bird and I recently took a trip to the east coast to visit our families and introduce them to Baby Bird. We got to experience a lot of air travel with a toddler: two flights to Syracuse, New York; two flights to Pittsburgh, Pennsylvania; and, two flights back home to Seattle.  Yes siree Bob, six airplanes plus one squirmy baby.
Granted, this trip was not Baby Bird's first on a plane. She has more mileage than some adults, having flown all the way from Yerevan, Armenia through London, England to Seattle, Washington at the tender age of 11 months. However, on that flight, she was still a babe in arms, not a walking, constantly moving, impatient, and sometimes 110-decibal screaming 16-month-old.
We were really worried how it would all pan out and I'm here to report, one week after the fact, we survived. It wasn't always easy. Okay, most of the time it wasn't easy at all. But we did it. And, we even made a few new friends in the process. Yes, you read that right.
What's our secret? Well…we took the advice of a couple friends and put together a "Goodwill Kit" which included ear plugs a lifesaver and a picture of Baby Bird that read:
"My name is Baby Bird. I am 16 months old. Airplanes are new to me, so thank you for your patience if I make too much noise."
We handed out the Goodwill Kits to passengers sitting in the rows in front of us and behind us, adjacent to us, one TSA agent in Syracuse and occasional random travelers. We did this on all of our flights except the last flight home which…ahem…might have been short-sighted on our part since this was the 110-decible flight.
People LOVED the Goodwill Kits. They chuckled, they shared stories of traveling with their own children, and—-thankfully, oh-so-thankfully—they put up with whatever shenanigans Baby Bird tossed their way.
3 comments