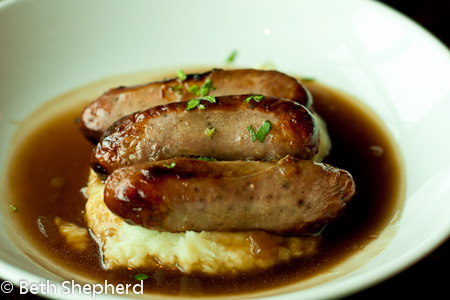 When I first met Big Papa, I was having a crown put on one of my teeth. As I bemoaned my inability to eat much of anything toothier than mush, he assured me, "Chewing is overrated." That's when I found out mashed potatoes rate as one of Big Papa's favorite dishes. Sausages easily make it into his top five. So this March, when our travels to Armenia included a couple days in London on the way over, I knew that if we ate nothing else, we'd eat bangers and mash.
Bangers and mash are quintessential British pub food, eaten in homes for centuries but first served up in English pubs around WWI as a cheap and filling lunchtime meal for the working class. "Bangers," sausages, and "mash," potatoes are served up with a healthy slathering of rich onion gravy.
Bangers take their name from the sound sausages can emit when fried. Modern sausages apparently don't make the loud "bang" sausages pre-WWII did when they were overheated because today's meats are generally made with less water.
We tried bangers and mash at several London locales and they did not disappoint. How could they really? Bangers and mash, with a good pint of ale alongside, are comfort food at its finest.
Here's my northwest take on onion gravy, made using succulent Walla Walla sweet onions. Paired with some locally grown potatoes and homemade sausage (one of the latest "it" foodie items easily found in Seattle), and our recent spate of gray days and drizzle, blimey if it doesn't feel like jolly old England.
Caramelized Walla Walla Onion Gravy
Ingredients
1 tablespoon light brown sugar
1 cup beef or chicken stock
salt and pepper
How to:
In a small saucepan set over medium heat, add the butter.
Once melted, add the onions and sugar to the pan and saute, stirring occasionally until wilted and well caramelized, about 18 to 20 minutes.
Add the garlic and thyme to the pan and saute until fragrant, about 30 seconds.
Add the flour to the pan and stir to make a roux, about 2 to 3 minutes.
De-glaze the pan with the cognac and once nearly evaporated, 1 minute, add the chicken stock.
Bring to a boil and reduce heat to a simmer.
Simmer the gravy for 15 minutes and season with the salt and pepper.
Want more bang in your week? Check out Wanderfood Wednesday!