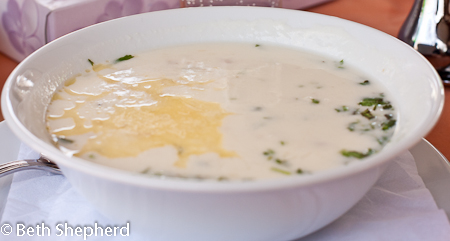 "I'll have the spas," is what I frequently said when we went out for lunch in Armenia. Spas (spahs) is a creamy, tart, filling and soup served warm in the winter and chilled during summer months.
This soup, sometimes called tahnabour or madzoon abour, is classic Armenian cuisine. It's made with yogurt and wheat grain (dzedzadz is the name of the Armenian grain) and seasoned with mint or cilantro. In a mountainous country with harsh winters, most rural homes keep their cupboards well-stocked with dried buttermilk and grains.  Making spas makes sense—it's an ancient comfort food.
When I visited Armenia this March, snow was still on the ground and temperatures dipped well below freezing. Spas was the perfect belly warmer for a cold day. And, I have also enjoyed chilled spas at the height of Armenian summer, when the cool yogurt and refreshing mint are the perfect pairing for hot, dry days.
There is an Armenian saying: Lentil soups are for fasting days and yogurt soups are for feasting days. All I can say is that I did a lot of feasting when I was in Armenia, because I [heart] spas.
Spas (yogurt soup with grains and herbs)
*Note: I have seen several recipe variations. Some use parsley, others use cilantro. Most also incorporate mint. Egg or wheat is necessary if the soup is hot; it keeps the yogurt from curdling.  You can also serve this soup chilled.
Ingredients
2/3 cup hulled wheat (farro, wheat berries or pearl barley can be used as a substitute if you can't find hulled wheat)
3 cups yogurt (Greek-style yogurt is best)
3 cups water or chicken broth
1 egg* Do not use in the cold version of the soup
2T flour
½ tsp salt
4T butter
1 T mint (chopped)
1/3 T parsley or cilantro (chopped)
How to:
Cook wheat in 4 cups of water or broth until tender. Blend yogurt, water, egg and flour with a beater. Cook until it boils, stirring constantly with a wooden spoon. Add salt, cooked wheat and remove from heat.  Saute onion in butter. Add mint and parsley. Combine with soup. Simmer five minutes.
Want to dip your spoon into more deliciousness? Check out Wanderfood Wednesday!