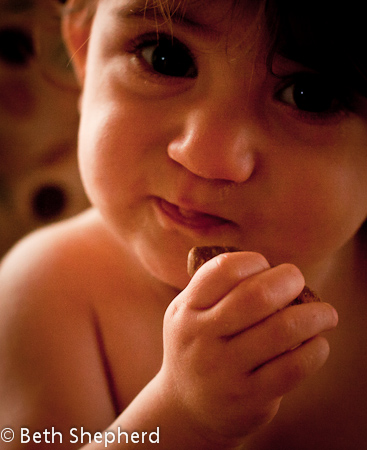 This is Baby Bird's week, a milestone week for her. So it only seemed proper that all my posts this week should be about—or by—her. First up, Baby Bird's debut food review:  Maple Biscuits for Teethers from Healthy Times2
.
Mmm-nana-babaop-mmm.
[Wow, these biscuits are really tasty]
Ra-RAAAA-ah-mmmm—dadadada-mmmm.
[This is my first time chewing and I have to say that these biscuits are great for my new teeth and gums]
Mamam-dddaaada-nananana-mmmm.
[They also fit nicely into my pint-sized hands]
Lalalal-MMMM-dada-nananan-mmm-AAAH.
[No wheat, soy or dairy. But organic and with calcium!]
Buhbuh-wha-wha???
Recipe? Sorry, I'm just teething not cooking.
Want to take a bite out of more deliciousness?
Check out Wanderfood Wednesday!