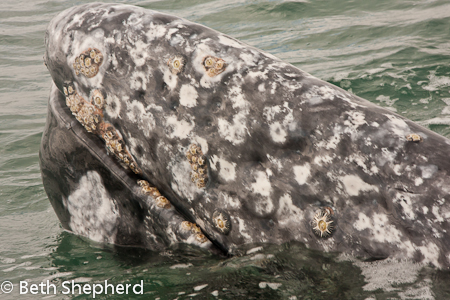 "Touch it. Touch it. Touch it!" That's what the naturalist yelled at me to do, on a boat in the middle of Scammon's Lagoon near the town of Guerrero Negro in Baja, Mexico.
So that's exactly what I did. I stuck my hand out over the water, and just at that moment, the whale flipped on her side and headed under our boat. As her fluke flew up into the air, my fingers grasped it. For one brief moment, I held a whale by the tail.
"I've got a whale by the tail," I hollered at my eight comrades aboard our "panga," a small fishing boat used to observe these giant mammals—literally—at arm's length. In one's lifetime, how often do you get to say that and have it be the honest to goodness truth?
Spending half a day surrounded by 2,000 gray whales was the high point of our recent trip to Baja, Mexico.  Karla, our Andiamo Travel tour guide, told us that a record 922 babies had been born in the lagoon this year, and they were keeping company with nearly 1,000 adults. Sure enough, just looking out on the horizon—at any given moment—we could count not one, not two, not three….but at least a dozen whale spouts. Unbelievable!
Each fall, gray whales travel 5,000 miles from the Arctic Ocean to the warm lagoons of Baja. They arrive late December in the shallow protected waters to court, mate, give birth and care for their babies. Mothers and calves remain the longest in the lagoons, until April, when they take their young back to feed in the rich, cold, Arctic waters.
During their time in Baja, male whales show off to eligible females by breeching or throwing their entire body into the air while mamas frolic with their babies in the turquoise water. Although the number of human observers is strictly limited, having an opportunity for a close encounter with one of the many "friendlies" is a huge draw for two-legged mammals, like us.
When you consider that our boat was dwarfed by even the baby whales, you would think we'd be scared by the prospect of tour bus-sized whales at play in, around and under our boat. But the truth the only thing any of us felt was sheer excitement to be in such close proximity to these amazing animals.
We spent a few bliss-filled hours watching as the whales breached, spy-hopped, rolled, sprayed, flapped their flukes, and let their curiosity get the better of them…because it was obvious they were just as interested in checking us out as we were them.
Hanging out in Mexico with mamas of the sea and their amazing babies was just the ticket for this northwestern girl. It was an experience I'll never forget!