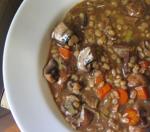 Today marks the third anniversary of my friend Dee's passing, and tonight Joel and I will sit down to enjoy a bowl Moosewood Mushroom Barley Soup in her memory, just as we did last year and the year before that. Making this soup—which Dee and I enjoyed together on many occasions–is my way of honoring our friendship, a friendship which spanned four decades.  For me, keeping up this tradition is a source of comfort.
I miss Dee and think about her a lot. In the three years since she died, there have been many days when I've wished I could call and hear the sound of her voice, and when I wrestle with challenges that life sends my way, I sometimes wonder what words of wisdom she might have shared.
Living life without loss isn't possible–I know that. Granted, some encounter more than others, but loss is something we all must face: loss of those we care about, loss of dreams, even the loss of our own abilities as we age. So the more important question is how do we comfort ourselves? Prayer, meditation, time spent alone or in the company of family and friends, getting away from it all, solace from being in nature or getting lost in the hum of urban life, working out, doing yoga, gardening, walking the dog. Each of us has our own unique way of seeking comfort.
And then there's comfort food. Whenever I hear those two words rich, hearty fare springs to mind: Mac 'n cheese, meatloaf, mashed potatoes or apple pie and a bowl of ice cream, or a bowl of steamy soup.
Everything about Moosewood's Mushroom Barley Soup reminds me of Dee, from the earthy smell of mushrooms which conjures up memories of playing in the woods behind our houses, just across the street from each other– to sharing a meal at Moosewood Restaurant whenever we could scrape up enough change, as Cornell undergraduate students, living in a house together in Ithaca, New York.
But mostly my heart remembers the many times Dee and I made this soup for each other: she for me, me for her, and occasionally side by side. So today I toast to you, my friend—the friendship we had, and everything you brought to the table.
Do not shed tears when I have gone
but smile instead because I have lived.
Do not shut your eyes and pray to God that I'll come back
but open your eyes and see all that I have left behind.
I know your heart will be empty because you cannot see me
but still I want you to be full of the love we shared.
You can turn your back on tomorrow and live only for yesterday
or you can be happy for tomorrow because of what happened
between us yesterday.
You can remember me and grieve that I have gone
or you can cherish my memory and let it live on.
You can cry and lose yourself become distraught
and turn your back on the world
or you can do what I want – smile, wipe away the tears,
learn to love again and go on.
~David Harkins, British poet
Mushroom Barley Soup from the Moosewood Cookbook
Serves 8
Ingredients
1/2 cup uncooked pearl barley
3 tablespoons butter
1/2-1 teaspoon salt
3-4 tablespoons tamari  or soy sauce
4 tablespoons dry sherry
6-1/2 cups stock or water
1 medium onion, chopped
2 medium cloves garlic, minced
1 lb fresh mushrooms, sliced
fresh ground black pepper
Preparation
Cook barley in 1-1/2 cups of the stock or water in a large saucepan or Dutch oven. Bring to a boil, cover and simmer until barley is tender (20-30 minutes). Add remaining stock or water, tamari and sherry.
Meanwhile, melt the butter in a skillet. Add the onions and garlic. Sauté for about 5 minutes over medium heat. Add mushrooms, and salt. Cover and cook, stirring occasionally, until everything is very tender (about 10-12 minutes).
Add the sauté with all its liquid to the cooked barley. Add fresh ground black pepper to taste and simmer, partially covered, for another 20 minutes. Serve with a slice of hearty bread.
Searching for more comfort?  Check out Wanderfood Wednesday.