Jumpin' Juniper: Seneca Drums Gin bails out mid-flight
I saw the look in Big Papa's eyes first: disappointment, disbelief. Then I saw the box. One side was caved in like a t-boned car. Liquid seeped through the cardboard as Big Papa cradled the box from underneath. The box looked like the underarm of a sweaty t-shirt. Not a good look.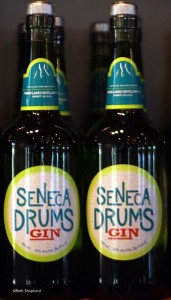 We were at Sea-Tac, Seattle's airport, having just returned from our east coast trip. I was waiting for our luggage to come out the shoot at the baggage carousel, while Big Papa trundled off to the special baggage counter to pick up our special cargo: booze.
During our two day stay in Ithaca, we took a side trip to Cayuga and Seneca Lakes to do a bit of wine tasting. And, lucky us, we stumbled onto Finger Lakes Distilling while we were at it. In our box, were ten bottles of wine, one bottle of gin and a bottle of bourbon soaked pickles. From the looks of things, at least one of the twelve didn't survive the journey.
In our six years as a couple we've gone on a number of wine tasting excursions, and have brought home a number of boxes, all intact. This was the first time we'd ever lost a passenger.
Returning home, Big Papa grabbed a kitchen knife, cut open the box. He opened the flaps and peered inside. The moment of truth: ten wine bottles safe and sound. Gin bottle smashed and pickle bottle in pieces.
All I can say is I pity the poor soul whose luggage flew 3,000 miles across country next to our box. By now they're home, pondering why their polo shirts smell like a bar and their cashmere sweater smells like a deli.
"I was really looking forward to a gin and tonic," said Big Papa somberly.
"Me too. Why did it have to be the gin? That amazing gin." I pined.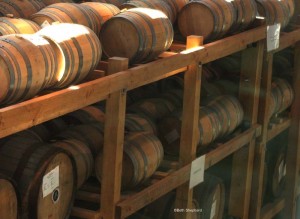 Truth be told Big Papa and I aren't big hard liquor drinkers. Weekdays he's a beer man all the way. On weekends we drink wine. But every now and then, particularly on a sunny summer day, there's really no substitute for a refreshing gin and tonic.
This gin was a really, really good gin. In the Pacific Northwest, you can't throw a cell phone these days without hitting a small craft distillery and most of them have gin. Hand-crafted gin (and other spirits) are popping up in Portland like dandelions in spring: Aviation, 12 Bridges, Cricket Club. Heck, there's even a distillery five blocks from our house. Oola is slated to open any day. And I'll bet they have gin.
The gin in our box—well, the gin that was in our box was Seneca Drums Gin from Finger Lakes Distilling in Hector, N.Y. Hector is a tiny town with less than 5,000 people, and some really good gin. In fact Seneca Drums Gin won the 'Best New York Spirit' award in 2010.
Seneca Drums is a London-style dry gin, distilled from local Seneca Lake grapes and blended with 11 botanicals, all from the Finger Lakes region except for the juniper which (ironically) is from the Pacific Northwest. It's a pretty zippy gin with a bit of a kick and lovely herbal notes of citrus, cucumber, clove and anise.
A shot of Seneca Drums gin, a pour of groovy new 'Q' tonic water, and a squeeze of fresh lime was exactly what Big Papa and I yearned for after a long, emotionally-laden week away and a six hour flight home. It was just the ticket. Except that it wasn't.
We both stared into that box. Then, as Big Papa cleaned up the mess of broken glass, I sat down at my computer and wrote an email to Finger Lakes Distillery with the details of the sorry end to our bottle of their finest.
The next day I heard from Brian McKenzie, one of the two McKenzie men (not related) who founded Finger Lakes Distillery. A bottle of Seneca Drums was on its way. Oh happy day!
Thanks and a shout out to Brian. I'm counting the days until our gin arrives. And just in time, as the weather forecast for Seattle, is finally trending toward sunshine. G&T here we come!
I'll stick with gin.  Champagne is just ginger ale that knows somebody.
~M*A*S*H Hawkeye, "Ceasefire," 1973
Want a shot of more deliciousness? Check out Wanderfood Wednesday!
1 comment