This past October, my husband (hereafter referred to as Big Papa) and I were fortunate enough to be able to visit Tibet. He was completing a work project that required a trip to Beijing and I decided to join him. We talked about taking additional time for a vacation after the project launched. Initially we considered Yunnan, after a friend of mine traveled there and told us about the diverse ethnic groups who live in that province.
Looking at the map, I noticed it wasn't much farther to Tibet. One of Big Papa's lifelong dreams was to see the Himalayas, so I angled for Tibet. We chose Wisdom Tours to guide us (independent travel is not allowed in Tibet), because they use Tibetan guides and we wanted an authentic perspective.
Our itinerary included a few days in Lhasa, with visits to the Barkhor market, Potala Palace (where Dalai Lamas lived for centuries) and Jokhang Temple, along with stops at monasteries and smaller towns as we wound our way through the countryside until we reached the highest spot on earth, Mt. Everest. We were unbelievably excited to see Everest. All the rest was the cherry on our sundae.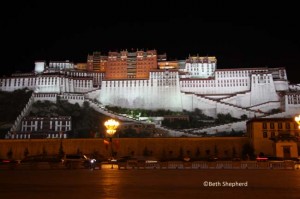 Arriving in Lhasa
We arrived on September 26. The elevation at Lhasa is 12,000 feet. Climbing the stairs to our hotel room left us breathless. That afternoon, we strolled through the Barkhor market. Buddhist pilgrims, many who had traveled thousands of miles, circumambulated clockwise around Jokhang Temple, one of the holiest temples in Tibet. They spun hand-held prayer wheels, sending prayers to the heavens.
Clouds of juniper incense perfumed the air. Colorful prayer flags adorned every rooftop and waved their rainbow of mantras between every building. Monks in beet red robes mingled with the throngs of tourists. Golden rooftops of the temples rose to a crystal clear turquoise sky.
On the road to Everest
Two days later, a bit more acclimatized to the altitude, we began our four-wheel trek to Everest. On the way, we passed tiny mountain outposts. We saw villagers, faces bronzed and filled with lines from hard labor in harsh conditions. Tibetans live simple lives in humble dwellings. They are devout in their beliefs and practices which are woven through every aspect of their lives, like the warm colors in a Tibetan rug.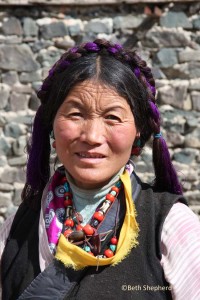 Visits to several monasteries were mesmerizing. Monks chanted so deeply, I could feel my chest vibrate. Rich saffron orange walls and a king's ransom of coral, turquoise and precious stones adorned golden Maitreya Buddhas and Taras. Salty yak butter tea was served to us by playful monks who scratched Big Papa's beard and laughed.
The food was surprisingly good. Thick, tangy yogurt laced with honey. Ginseng roots slathered with rich yak butter and tossed in rice. Hearty yak nestled beside carrots and potatoes in a tasty stew. We did not expect to write home about the cuisine and yet , here we were, praising each meal and looking forward to the next.
We headed skyward, driving by nomads herding noble yaks in remote vistas of spectacular beauty. Three days later, we arrived at Chomolangma National Park (Chomolangma means 'Goddess Mother of the Universe' in Tibetan). We hiked the final three miles in to base camp, at 17,000 feet. Finally, we stood facing the mountain, in all her glory.
Seeing the Goddess Mother of the Universe is awe-inspiring. I will never forget the time we spent in her shadows. There is something indescribable about being in that place, achieving a dream, traveling the distance and seeing the unimaginable. It was only nine days and, at the same time, it was life-changing.
Had we not experienced the days preceding that moment, I'm not sure it would have meant as much. Before our trip, visiting Everest was a mere dream. Now it was 29,000 feet of rock solid reality. And, we understood more about Goddess Mother by learning about her people and the land beneath her snowy base.
The Dream
Our trip to Tibet and Mt. Everest has many parallels with our adoption journey. Becoming parents is a long-held dream. The road to adoption covers many miles and is very steep. There are many obstacles en route and the unexpected greets us around every corner. With each step, we learn more. We work hard together as a team. There are times of laughter and also times when we have shed many tears. As we make our way, we craft an incredible story. A story we hope to share one day with our child as we encourage him to pursue dreams of his own.