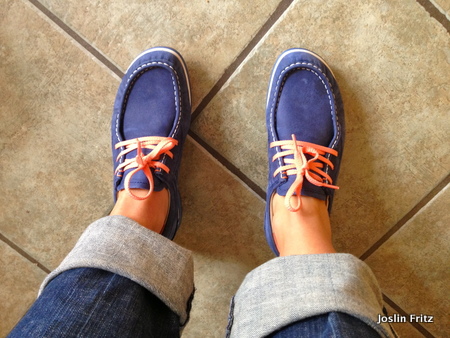 I love my flip flop sandals as you all know, but every once in a while there is a shoe that comes along that begs to be worn. It seems to whisper to you from the storefront window, "Psst, hey, you. Yeah, you. Come try me on."
That shoe for me is the ECCO Mind.
ECCO shoes, a global company based in Denmark, is well known for their stylish, comfortable and durable shoes. I've seen plenty of people sporting them on trips I've led abroad, as they can be an excellent touring shoe. They recently celebrated their 50th anniversary of shoemaking, and to mark the occasion, they designed the ECCO Mind.
I have to say the biggest reason I love these shoes is the color. The bright blue paired with orange laces is right up my alley. The design is quite simple, yet, they're very stylish and feminine. All stitches shown on the shoe serve a purpose, no extra frills to speak of. This allows the bright color to really stand out, as these retro shoes almost always garner a comment when I wear them about.
In terms of comfort, I find the sizing is very good, they fit my feet very snugly, so much so that I only wear very thin, sheer socks with them. The grip is strong, and I like that I don't feel I'm going to slip if I'm jogging to my car on a classically wet Seattle morning. The full leather lining has stretched and almost molded to my feet as I worn these moccasins in. I believe they'll continue to become more comfortable as the years go on.
One fact that ECCO boists about these shoes that impressed me was the fact that 210 pairs of hands touch every ECCO shoe. As I inspected the shoes more closely, I could see the handcrafted work that they were talking about-tight stitching, attention to detail and a very clean finish. Well done ECCO, keep it up for another 50 years.
What I love about the ECCO Mind Shoes:
Bright colors! (And lots of colors to choose from!)

Well built shoe, simple yet intricately designed. Can see the craftsmanship in the final product.
Grippy sole.
Not so much:
Tight fit, needs to be worn in just a bit. 

Pricey ($170), but worth it for a fun shoe that can pair with many styles.
ECCO Mind shoes retail for $170 and can be bought here on the ECCO website.
Adventure On,
Joslin