I camp. A lot. Granted that most of the camping I do happens during the warmer summer months, I still like to get out during the autumn, just before it gets too cold to put away my tent, sleeping pad and sleeping bag. (Yes, that's right, I might try ice-climbing, but I do not do winter camping.)
This fall weather has been perfect for testing out the Big Agnes Mirror Lake 22 Sleeping Bag. It can get into the 40's (even 30s sometimes) at night here in New England, and I've stayed comfy and cozy in the Mirror Lake bag. Here's a few of the key specs on the women's specific bag:
Weight: 2 lbs 10 oz
Fill: 600 Fill Goose Down
Height: Regular: 5'10'' (Petite: 5'6'')
Compressed Bag Size: 9'' x 10''
Temperature Range: 22 degrees Farenheit and up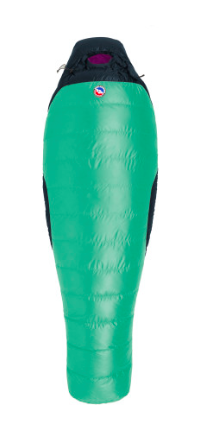 Thanks to the DownTek water repellent down technology, I didn't worry about my down sleeping bag getting wet from the morning dew. It quickly dried and continued to keep me warm as I lay in my bag, listening to the leaves rustling in the wind. I had some extra length to get really snug into the bag, since I'm 5'7'' and the bags' height is 5'10''. This has been an issue for me with other women's specific bags, the fact that they can be too short and small for me. I found the bag provided me with plenty of room to rustle and move about, yet still gave me the warmth that comes from a traditional mummy bag. The interior loops for a sleeping bag liner are a nice touch, those I prefer to not use the liners myself.
It can be easy to break the bank on a good quality down insulated sleeping bag, but the Mirror Lake gives excellent bag for its' buck. At less than $200, the Mirror Lake bag is good for those thrifty consumers out there looking to make a smart purchase. Not to mention that if you have two Big Agnes sleeping bags with zippers on opposite sides (one with a left zipper and one with a right zipper), you can zip them together and create one big sleeping bag for two. Now that's what I call camping.
What I loved:

Plenty of room to move around, yet still warm, traditional mummy shaped bag


Extra inches for height


Loved the colors


Drawstring cord and collar seals prevent cold air from sneaking in


Economical ($199.95) for a down filled sleeping bag


Not so much:

Can't think of anything….


You can purchase the Women's Mirror Lake 22 Sleeping Bag on the Big Agnes website here.
Adventure On,
Joslin
1 comment