Food is such an integral component to travel. We are exposed to part of the culture through our taste buds, an experience that can leave lasting memories, both good and bad. Even though I'm not known to skip an opportunity to chow down on local grub, I always pack some energy bars with me for long drives and hard hikes. I packed a variety of bars for my trip to Bhutan last October, and all the guests on the trip partook in the taste testing. These were some of our favorites. Granted, it's important to note that these bars have different nutritional content and are created for certain use (some have high protein, some are meal replacements, and some are mean to substitute granola bars). I suggest packing a variety, but choose according to your needs.
1. PROBAR Meal
This was the favorite bar of the trip for everyone in terms of taste and texture. Even with our mix of taste preferences,  from chocolate to fruit-filled, everyone found a PROBAR Meal they liked on the trip. Tops for taste were the Whole Berry Blast, Superberry Greens, and two new flavors, Mint Chocolate and Chocolate Coconut. These three ounce bars are meant to replace a meal, having 350-400 calories, 15-19 grams of fat, 6-10 grams of protein, and roughly 45 grams of carbohydrates in each bar. I would've preferred a bit more protein in these bars, but for taste, they can't be beat.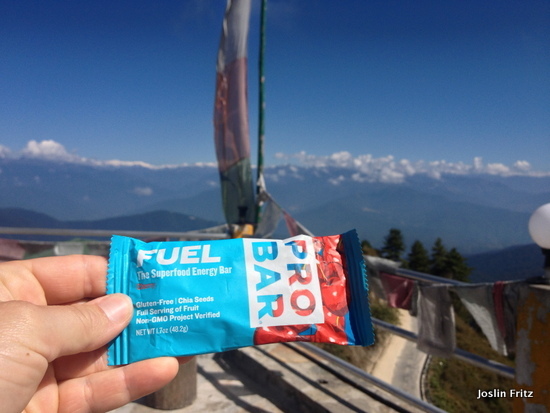 2. PROBAR Fuel
Yet again PROBAR took the lead above our other energy bars tested with their superfood energy bar. These gluten-free bars are packed with a full serving of fruit (sometimes two), chia seeds and lots of flavor. With 160 calories, 3 grams of fat, 3 grams protein, 33 grams of carbohydrates and 4 grams dietary fiber, these bars are more of a substitute for a granola bar than a meal. But again, the taste is spot on. We also enjoyed the PROBAR Halo Bars, which were more chocolatey goodness (think Rocky Road and S'mores), but we preferred the Fuel bars for their fruit sweetness over the chocolate/marshmallow bars.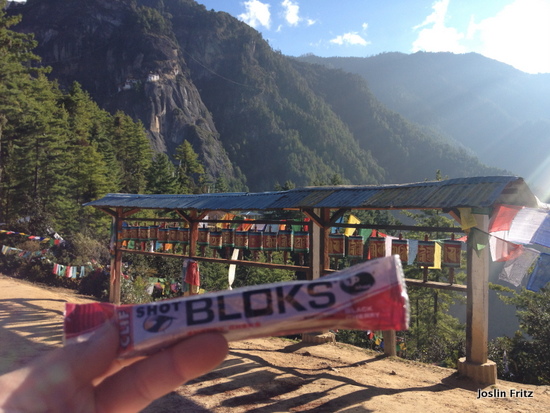 3. CLIF Shot Bloks
These gummy chews worked excellent on our hike up to Tiger's Nest Monastery. With 33 calories a cube, (6 cubes a pack) and 25-50 mg of caffeine per packet, we all felt like we were eating candy rather than energy shots. No high fructose corn syrup though! Some didn't like how the chews stuck to their teeth, but overall they worked well for our high intensity hike. These Bloks are really meant for active adventurers and athletes, and so make sure your activity is suitable for the shots.
I always throw a couple of CLIF bars in my suitcase for a trip, as they are so quick, easy and delicious to snack on. These bars, with roughly 250 calories, 6 grams of fat, 4 grams of dietary fiber and 9 grams of protein are great for the second hour in the car or that 4pm hunger pang. We tried out some seasonal flavors (Iced Gingerbread, Pecan Pie and Spicy Pumpkin Pie), and the feedback was mixed. Some felt that the bars were too sweet, especially the Pecan Pie. Others loved the Gingerbread, feeling it was a substitute for dessert. Considering the wide range of responses, I'd say it's worth a try. When in doubt, you can return to good ol' Chocolate Chip.
Adventure On, 
Joslin
3 comments