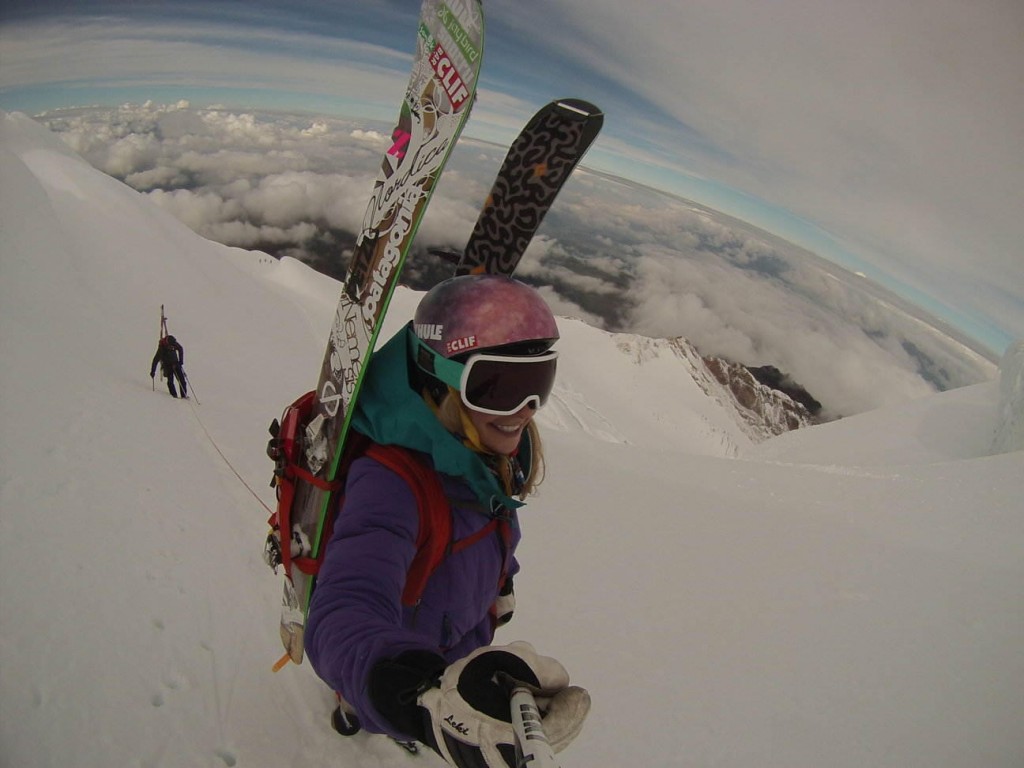 SUP yoga and whitewater racer Natali Zollinger was highlighted last month as our Fearless Female of the Month, and I was amazed with the positive response I received from the post. Thank you!
Our Fearless Female of the Month for October is professional big mountain skier and model Caroline Gleich. Caroline is tearing it up in the sport of backcountry skiing. She is sponsored by the likes of Patagonia, Zeal Optics and CLIF Bar, has a strong following, with almost 4,000 Facebook likes, 3,000 Twitter followers, and a whopping 46,000 instagram followers. Needless to say, folks love her. The CLIF Bar athlete and recently shared with me some insights into the world of ski mountaineering, what she'd like to see for females in the industry, the recent death of her friend and fellow skier, Liz Daley, and her #1 reason for heading to the mountains with the other women.
How long have you been skiing?
I started skiing when I was 18 months old. I never skied competitively, but I always loved it. I decided when I was 18 that I wanted to be a professional skier. When I was in college, I always would take off spring semester so I never had to miss a ski season! I still finished school though, graduating with a degree in anthropology from the University of Utah.
What are your upcoming skiing plans?
I'd like to explore the greater regions of the world, combining both tours that involve extensive fitness training and logistical planning. The Caucasus range in Russia, the Andes range in Peru and the Himalayas all are on my "to-ski" list. Ski mountaineering is such a cool way to travel the world. For the most part we're self-supported and self-sufficient and people are so welcoming when we see them in their small mountain towns.
Liz Daley, another professional skier like yourself, recently passed away in a deadly avalanche in Chile. How has her death affected your skiing and your skiing goals?
Liz and I did about 6 or 7 trips together over the past 2 years. She was like my best friend, definitely a mentor and someone I looked up to. Her death made me step back and re-evaluate my goals, desires and motivation for ski mountaineering. In ski mountaineering there's very little room for error, you need to have the clearest mind possible. Her death reminded me that when I'm skiing, I can't let my sponsors, the photographer, or anyone else get in the way of me making the smartest, safest decision that I need to make for myself. (See here for Liz's write-up of guiding on Denali, and also information on her untimely death this past September.)
What's one of your recent favorite skiing moments?
This past spring I went to Chamonix, France, with a filmmaker who happens to be a close friend. Chamonix is the birthplace of steep, downhill skiing. On one of our last days there we ended up skiing off the summit of this peak via a traverse of it's complicated ridge line after a grueling 7 hour traverse. I just remember finally navigating ourselves to the summit, standing above and overlooking these small spires, just before we dropped in. It was a clear, blue day, and I remember thinking how it was completely magical. That was a real special moment for me.
How do you train in the off-season?
Well, since I can't ski year round, I train really hard by running, hiking, and climbing. This year I've been working on my alpine climbing. I've done some fun trips to the Sierras, to the Rockies, and some desert towers around Southern Utah. I've been posting my adventures up on my Instagram feed, and folks have really been loving them.
You have almost 4,000 Facebook likes, and 46,000 instagram followers. People love you! What do you attribute your strong following to?
I attribute it to finding my voice, I want to promote an active lifestyle, and I think my spirit of adventure resonates with my followers. I love what I do and get to visit so many beautiful places, and I think that passion comes through in my photos and posts.
Recently there was an article in Teton Gravity entitled 8 Reasons Why Women Need to Go to the Mountains with Other Women. It's gone viral, people have really loved the post. What's your #1 reason to go to the mountains with other women?
Well, I know Leslie, the author, and we actually chatted about that post! It's great that so many folks have connected with it. I think for me, it's about the conversation that happens. It's an opportunity to catch up with my friends. As we're traversing up a mountain, or going on a trail run, I can multi-task, get some fun outdoor recreation and connect with my friends. Also, I think we have a tendency to have shallow relationships in our culture. When you're out in the wilderness with someone, be it in the backcountry on the mountain, or tied to the other end of the rope climbing, you're much more vulnerable and dependent than we are in our day-to-day lives. You're more able to express yourself, and perhaps open up in ways that you can't in everyday situations.
What advice would you give for females who want to get involved in backcountry skiing?
Well, definitely I'd suggest taking an avalanche course to get your bearings. Second, seek out mentors. Having a mentor, or someone willing to show you the ropes, is such a great way to get practical knowledge.
What do you see the future of females in skiing to be? 
You know, it's so competitive in the ski and snow industry as an athlete. There's a token female for every ten male professional skiers. The recent film, Pretty Faces, the story of a skier girl, is a fantastic start to showcasing females in the sport. It's a long time coming. I'd love to be part of an all female ski-mountaineering expedition, that I think is the next step for females in the skiing industry.
You can read more about Caroline on her website here. Have a suggestion for our next Fearless Female of the Month? Write in your suggestion in a comment below!
Adventure On, 
Joslin
Photo courtesy of Caroline Gleich.
Add a comment