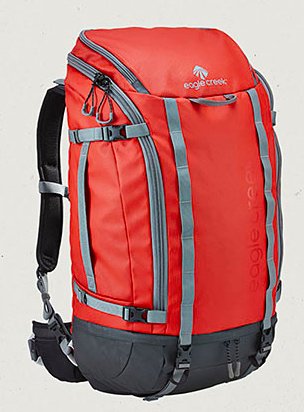 I've been on the road now for almost a month, with only one bag to cover a wide range of climates and activities. I didn't want to use a rolling suitcase as I knew I'd be "off-roading" it more often than not. This has been an excellent opportunity to test out Eagle Creek's Systems Go 60L Duffel Pack.
I like variety. This pack works well for my diverse needs. It's one of the more versatile I've used, due to its ability to be a backpack or a duffel. With a capacity of 60L, the bag is more than big enough for a long weekend trip to another city, while it'd be perfect for a outdoor oriented weeklong adventure. 
Accessibility is one of the best features of the bag. The 3/4 front panel load gives full access to the main compartment, which let's me easily unzip the bag so it's completely open. This way I can get to things I stuff at the bottom of the bag. There is a separate, lockable, zippered compartment below the main chamber which I kept my shoes in.
Something I tried for the first time with this bag was the Pack-It Cubes. The Systems Go Duffel Bag was designed to hold five Pack-It Cubes. Pack-It Cubes are lightweight, zippered bags that help you to organize your pack. There's a number of ways to use Pack-It Cubes to help tidy things up, such as having different outfits for each day in each cube, or, the way I did it, putting shirts, pants, dresses, and underwear into separate cubes. I kept one empty cube to put dirty clothes in. I loved this way of packing, and I think I'm a convert to the cubes. I'll be using them for future trips most definitely.
The detachable straps were such a bonus, I really loved being able to switch wearing the bag as a backpack, to swinging it over my shoulder as a duffel. The attachment points are numerous and strong, the buckles are easy to clip/unclip, and the multiple grabbing points made picking my bag up a breeze.
I found the compression straps on the side and bottom to be very handy. When I was wearing it as a backpack at times it felt very tall in height, though once I strapped my hip belt on, it felt much more secure.
What I loved:

Accessibility. Long zippers and separate compartments made it easy to get to all areas of the bag.


Variety. I loved the detachable straps that let the bag be used either as a backpack or a duffel.


Durable. The material of the bag is built to withstand major abrasion. It's not going to rip.


Not so much:

When worn as a backpack, the pack feels a bit tippy and high. Once I put the hip belt on though, this issue is minimized.


If you're looking for a versatile, accessible pack, the Systems Go 60L Duffel is a solid choice. The pack also comes in 35L, for those looking for a smaller pack. The 60L Duffel can be bought for $160 here on the Eagle Creek website.
Adventure On,
Joslin
Add a comment