Roadhop – non flight travel across the globe
The scene is an Indian bus stand. It's dusty and noisy and totally confusing. The strategy is to wander from bus to bus reciting your destination hopefully. People are generally helpful in India and usually someone will wave you towards a bus. There are private buses and State run buses. What I want today is a fast bus a non stop bus out of this town and away to adventure in the desert. I don't want a painful local bus that slows down at every pedestrian, pauses before every temple (it's India there are lots of both!), stops at every local bus stand just long enough for half the passengers to get off and have a chai.
I calculate the distance in my head. Roughly 80 kilometers. Given that buses in India travel at around 40KPH, I can anticipate a journey time of 4 hours including stops both necessary (men have no compunction about stopping the bus so they can relieve themselves by the roadside) and totally unnecessary (slowing down at every pedestrian on the roadside and shouting the destination to the unwary foot traveler).
The best case scenario is a direct bus which could possibly get me to my destination in two hours. The conductor of the bus assures me that the bus is direct, only three stops. It's not exactly direct by phoren terms but this is India and anything in the transport world labeled "express" is often a euphemism for "the very slowest option" The guy could be telling the truth or he could be lying to fill the bus up as he seems to be in direct competition with the guy in the bus next to us who is also shouting the name of my destination at me hysterically. I eye his bus warily, assess the vacant seats (in India buses leave when they are full not when they are scheduled) and see that he is possibly closer to leaving than the first bus. The second bus is full to bursting, bags and people lean at precarious angles, I am sure I hear chickens cackling away inside transiting mass. There are a lot of turbans and kids who are more than capable of the kind of Road Sickness that leads to projectile vomiting.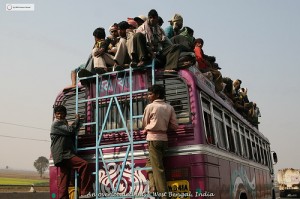 I slide my gaze back to the first bus. There are people with ironed shirts and briefcases embarking. There is no cargo being loaded except for the human cargo but the bus is half full, this could mean a thirty minute delay.
While I dither in indecision, the second bus roars into a carbon monoxide laden start. More people appear from chai stalls and thin air hurrying to board the bus, while the driver crashes gears and toots the horn. Saved by the horn. As Bus #2  rattles off down the road, I head to the ticket office.
Speaking in Hindi, I ask the ticket seller for a ticket to Jodhpur.  He responds  in English,"Thirty two rupees."     I ask him what time the bus will arrive in Jodhpur (in Hindi). He looks at me dumbfounded. We face each other off for a few tantalising (untranslatable) seconds. He shakes his head and smiles shyly, "Sorry, no Engleeesh," he says.Dumbfounded, I shrug my shoulders and turn towards the bus. As I walk away, I hear him say to his buddy "That English sounds a lot like Hindi."
Those were the good old bad old days of being lost in translation in India. In a way it was kind of thrilling to never be quite sure of your next destination and even less certain of your arrival time, no matter what language you were speaking. But somedays you just want to get to where you are heading without the cultural experience of having a vomiting child on your lap and a box of chickens at your feet.
Which is why I was excited to hear about Roadhop. Founded by two sisters who are also passionate travelers and backpackers, Roadhop aims to provide consolidated and organized information on long distance train, bus or ferry travel  across the globe. It all began when they found themselves in a similar situation somewhere in the jungles of Malayasia. "It inspired us to combine our love of travel with technology that would help people," said Kel with whom I met up recently in Kuala Lumpur.
"Talking to our fellow backpackers in hostels, we realized how many backpackers and independent travelers experience the same problem in Europe (especially Eastern Europe), Latin America, China. Even in advanced countries like Japan and Korea information is not available in English, and in SE Asia where we are from, there is no information at all," she said.
That's the thing, I have noticed it myself. You can easily find flight information around the world, you are spoiled for choice if you want to book a flight. However there is still no one site where non-flight travel is searchable. Kel quit her job as supply chain analyst  and together with her sister  Wyn,  a quantitative finance and economics graduate, they decided to take on the world. The result is the recently launched Roadhop – a site aimed to get you from Point A to Point B by non-flight travel.
Simple to use,  you enter your start point and destination, then click "search" and viola! You get timings, fares and station maps all in one click. Travelers log their trips to various parts of the world, other travelers who have used the same route will vote and verify the data while the team at Roadhop collect and organize other transport options instead of the usual plane or car.
"We are also experimenting with crowdsourcing as a way of gathering better information. We invite users to search our site, comment on routes, post interesting ways to travel on Roadhop's facebook wall or to send us an email. We will update our database. We integrate all user-generated content into the site." An ongoing project, Roadhop has currently mapped Vietnam, Singapore, Malaysia and the Philippines, with Thailand, China and India well underway.
2 comments