Cenote Xocempich in the Yucatan Peninsula
Cenote Xocempich
I recently visited Cenote Xocempich in the Yucatan Peninsula of Mexico. Cenotes were considered sacred spaces by the Maya and come from the collapse of limestone bedrock and contain a natural source of water. My visit to Cenote Xocempich was organized by Catherwood Travels and was an exceptional experience. Visiting the Cenote allowed me to experience life as locals live in Mexico, for an afternoon. The Cenote was located in the countryside along side the ruin of a hacienda.
Cenote Xocempich is located in a lush, serene setting. Reaching it does require walking down several steep flights of steps. Once you reach the bottom you will find a gorgeous setting that transports you far from every day life. Here you can swim while enjoy the view of hanging vines, tropical plants and silence. The tour provides guests with towels during their visit; and there is a shower available after your swim, in a restored stone building with lovely high ceilings and wood beams. The Cenote is private, so only those on your tour will be on the grounds and at the Cenote. A visit to Xocempich is meant to be a private experience for you.

A view of part of the walk down to the Cenote.
Lunch at the Hacienda Ruins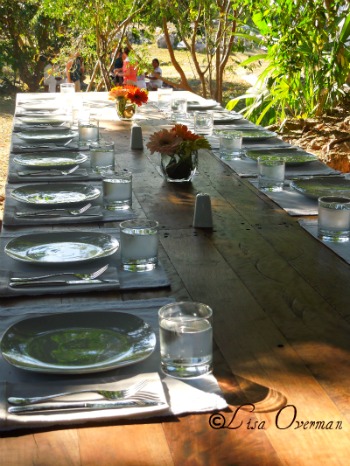 When we visited the Cenote we also enjoyed lunch. Our traditional lunch was cooked over a wood fire and served outside under a giant old tree. The food was fresh, delightful and full of flavors known to the Yucatan region. Our meal included an appetizer which was prepared with squash seeds, tomato and spices. This was prepared and presented inside a fresh pepper and eaten with tortilla chips.

Our appetizer made with squash seeds, tomato and spices.
Our main courses were slow roasted pulled pork, and a mesquite chicken, they were exceptional. In addition our meal included fresh pico de gallo, homemade guacamole, rice and wood fire cooked tortillas. It was a lunch I will long remember.

Cooking tortillas over a wood fire.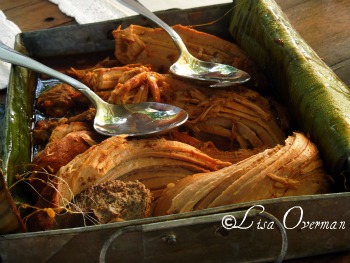 Slow roasted pulled pork, cooked over a wood fire outside.
The outdoor setting was perfect and Catherwood Travels tour included a guide who was both knowledgeable and interesting. Dr. Julia Miller who is an archaeologist shared her love and knowledge of the region, of the Cenote and of the food and culture of the Yucatan Peninsula. She and Alfonso, made our experience exceptional.
My visit to the Cenote was part of a sponsored trip with the Mexico Tourism Board and Ogilvy PR. My opinions of the experience are strictly my own.
7 comments