Being immersed in a foreign culture is an experience many of us savor. We open our eyes to new cultures and ways of life through our travel experiences. Recently while traveling in the Midwest I had the opportunity to immerse myself in the Amish culture, during a visit to Amish Acres in Nappanee, Indiana.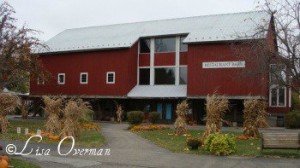 Amish Acres Restaurant Barn
The Amish live side by side in communities with the English as we are called by the Amish in Midwestern communities, yet our cultures are worlds apart. The Amish live by the rules and beliefs of their founders, guided by Bishops in their individual communities. Amish communities live with varying rules according to their Bishop. Some Amish are allowed to ride in cars and the majority are allowed to use telephones for business purposes, though phones are forbidden in Amish homes. Others are allowed to travel on Amish organized bus tours or even to fly by air though generally Amish travel strictly by horse and buggy or bicycles.

Amish hat and clothing at Amish Acres

Amish harvesting using horses.
The Amish are traditional farmers plowing with draft horses and man power. Modern machinery is shunned, electricity forbidden except for business purposes such as refrigeration of goods for sale. An Amish home is simple with wood fire heating, oil lanterns and wood stoves for cooking and baking. The Amish speak German among themselves and church services are held in High German though the Amish speak flawless English to outsiders.

Amish Acres Buggy Barn
Amish Acres allows us to step inside the Amish culture for a day, experiencing what life on a traditional Amish farm means. Visitors can tour an Amish home on the property where three generations of Amish immigrants lived. We can experience their one room school house, eat their delicious home cooked meals and take a ride in an Amish horse and buggy around the property.

Amish clothing at Amish Acres
Though I grew up living near Amish communities the Amish culture still fascinates me. I find myself driving through small communities in northern Indiana and Ohio watching with fascination as Amish families work and interact in the community. Though I've had numerous opportunities to take close up photos of the Amish I resist, knowing it's against their religion to be photographed. Instead I take far away shots to maintain their privacy and respect their culture.

Amish dolls for sale at Amish Acres
Amish Acres gives visitors an excellent up close experience in Amish living. They offer informative guided tours and an opportunity to explore an Amish farm. They also offer a theatre with videos on Amish life, one geared specifically for children. In addition there are regular theatre productions offered included Plain and Fancy and visiting musical performances.

An Amish Horse and Buggy
Amish Acres offers meals that can only be described as country home cooking. The food is plentiful and delicious. Amish Acres offers a Threshers Meal which is served family style at your table. This meal includes fried chicken, ham or roast beef. Along with this bountiful selection you're provided ham and bean soup, mashed potatoes, gravy, green beans and exceptional homemade bread with delicious apple butter. For dessert there are a selection of rich, delicious pies, including shoefly pie, dutch apple, custard, peanut butter, coconut cream and several others.
Amish Acres offers a lunch menu from 11-2 that includes a hearty beef stew in a hearth bread bowl, chicken and noodles, a sandwich platter including ham, smoked sausage and chicken salad with a choice of several home cooked side dishes including beef and noodles or ham and bean soup. Amish Acres specialties include sassafras tea, shoefly pie, fresh baked bread, homemade butter and locally made apple butter.
Amish Acres also has a wine tasting loft where visitors can taste a variety of wines made locally in Indiana and Michigan. The wine tasting loft offers two options for visiting wine lovers. The Wine tasting loft is open on Friday and Saturday from 2-7 p.m. with hours varying according to season. The wine tasting loft offers discounts on quantity and case purchases and offers a wine accessory shop.
Amish Acres offers an interesting cultural experience. It's a glimpse into a world far removed from our everyday life and an opportunity to explore a culture that is shrouded in mystery.
Visitors to Amish Acres can choose from single day tickets, the Country package, a Holiday package or one of the Theatre packages with shows such as Plain and Fancy, or A Closer Walk with Patsy Cline. They also offer additional seasonal theatre productions, including Cinderella.
Amish Acres hours change in the winter season. Starting Nov 8th Amish Acres is closed on Monday and Tuesday until spring. January through March the entire resort is closed with the exception of the Inn at Amish Acres.
* This visit was courtesy of Amish Acres
Amish Acres
1600 West Market St.
Nappanee, Indiana 46550
800-800-4942