The Spice of Life Eating Indian in Berlin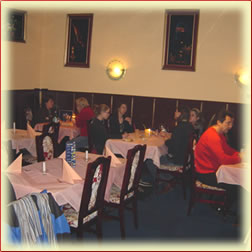 Nirwana Restaurant photo's courtesy of Nirwana Restaurant and website.
There are restaurants that we love and then there are the restaurants we never forget because the food is spectacular and the service is excellent. Nirwana Indian Restaurant in the Steglitz section of Berlin is just such a restaurant. I would love to get on a plane to Berlin tonight just to eat again at this restaurant. Nirwana is a small neighborhood restaurant with a relaxed yet elegant ambiance. I have eaten at this restaurant many many times and every time it delights. Nirwana's Chicken Korma is to die for and so is the mint sauce they serve with their naan. In fact when I visit a new Indian restaurant that is my test, does the Chicken Korma stand up to this place? So far, sadly I have not found another Indian restaurant I love as much as this one. I loved their Josh Rogan dish and their rice flavored with star anise and clove. They recommend on their website if you like spicy food to order your dishes either medium hot or Indian hot (very hot ). Everything about this restaurant from the moment you step in the door speaks of quality. The owners greet you and provide a meal you will certainly enjoy and remember for years to come. For those of you who would like to read their website in English you can copy and paste the website information into google's translation page. I did this and it worked well.
1 comment