Guestpost
A month ago, I heard rumblings about an Ultra-marathon on Isla de Ometepe in Nicaragua, an island shaped by two volcanoes in the middle of Lake Nicaragua. I couldn't resist. What was appealing to me first and foremost was the location and environment, an island jungle course climbing a volcano. The bonus was without a doubt the many opportunities the race offered for volunteering.  And the bonus on top of that I would soon learn, was the caliber of athletes and people I met during the event. From the race directors Josue and Paula Ring-Stephens, to ultra athletes and coaches Eric Orton and Sean Meissner, to Badass Babes climbing coconut trees and getting muddy in skirts. Along with the  fourth Fuego y Agua that includes a 25k, a 50k, and a 100k, the first Survival Run was to take place. I was excited to learn more about what that course entailed.
I opted for the 50k to step up the challenge and experience as much as I could of the jungle terrain. I arrived in time to photograph and participate in the Fuego y Agua Isla Limpia event along with many of the Ultra-marathoners who came early to volunteer and acclimate.
Eric Orton, Sean Meissner, and Margaret Schlachter scan for trash along an Ometepe Island sidewalk.
Locals from the Ometepe community work together and tackle the trash.
 50k Runner Jess Soco and 100k Runner Tyler Tomasello armed with gloves and trash bags.
With volunteer opportunities, packet pick-up, pre-race dinners, a spontaneous and hilarious beer mile, time spent waiting for ferry's and shuttles, there were plenty of chances to meet and get to know the other runners. I met a group of Luna Sandal wearing racers, who planned to travel to the Copper Canyons for the next event Co-directed by Fuego y Agua LLC coming up soon in March. What better way to train and keep the good energy flowing? The Ultra Maraton Caballo Blanco on March 3, 2013 will keep alive the dream, the inspiration, the energy, and donations to support the Raramuri Indians of that region. Extreme sports with philanthropic goals. One thing about extreme athletes is certain, they have the energy to make things happen, and it appears no destination is too remote.
Jess Soco runs in Luna Sandals.  They are based on the sandals worn by the Raramuri called huarache. They are made from a leather footbed tied onto your foot with a variety of methods and laces. She loaned me a pair and I tried them out on my pre-race test the old legs jaunt. I loved them. Luckily I had some top notch running coaches around to advise me NOT to wear them racing for the first time out on a 50k jungle trail because I liked them that much. It was good advice. My race started at 4:00 am in the dark, half asleep still and squinting with a less than adequate headlamp to see the rocks, branches, and the potential suicide chicken or pig crossing my path, stumbling and tripping along I was grateful for my close toed shoes. I was also grateful to be behind Jess for most of the distance. I knew that wearing minimal shoes means artfully choosing and picking foot placement. So I followed her lead and made it over hairy steep climbs scaling roots and tree branches, through narrow chutes and thick mud, to barely there bridges and swinging on vines descents. If you are a monkey at heart, this race is for you. At the finish, our prize was a dip in Lake Nicaragua and a Tona or two.
Some ran in teams
Some ran with their new shoes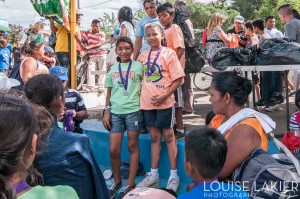 Participants received shoes, t-shirts, medals, and a  meal
As if I hadn't already reached my fun quota, I had the Calzado Kids Run on my radar. A 5k run into the center of town along the main road open to kids aged 6-16. Each participant received a free pair of shoes from in-kind donations, a t-shirt, a medal, and a meal. Once again the marathoners came out to run with the kids and work the aids stations.
Local ultra marathoner Johnson Cruz stretches his legs with up and coming competitors in the Calzado Kids Race the day after winning the first Fuego y Agua Survival Run. Including a 70k run and amongst other tasks, the participants carried bundles of logs, ran with a chicken, climbed coconut trees, swam the lagoon inside Volcan Maderas, hauled bamboo up the volcano and finished with an unbroken egg tied to their forehead. Only two competitors finished this course. The mystery around their tasks kept us all in suspense and in awe of every step completed.
Event Photography & Volunteer Travel Tips: Find an event that encompasses activities or causes you are passionate about, participate or volunteer to help execute it, and make lots of images and lots of new friends with similar interests!
Happy Travels!