Camera Bags for Women: Pretty, Preppy, and Practical – The Medium Leather Camera Bag by Jill-e Designs
[Photo © Jill-e Designs]
Jill-e Designs has been creating amazing camera bags for women for five years.  They are known for their stylish, classy bags and excellent construction.  They have built their business with a clear, women-centric vision:
"Jill-e Designs – established by and for women – believes every woman deserves to carry her work tools and lifestyle essentials in a stylish, secure, affordable, high-quality bag. We started in 2007 as an advocate for every female photographer who ever had to put up with the male-oriented look and feel of professional camera bags. "Function on the inside, fashion on the outside" was a quick way to convey our goal."
What a fantastic business statement!  As a female photographer who put up with many a man bag, I couldn't applaud louder.  Since 2007 they have added camera bags for men, a line of accessories, and a variety of valises and rolling bags to their offerings too.
I recently test drove the "Medium Bone and Red Leather Camera Bag" and was impressed!  The bag is pretty, preppy, and practical.  Are you searching for a professional bag with great style?  Read on – a Jill-e camera bag may be the perfect fit!
Review: [rating system = 1 to 5 with 5 being excellent and 1 being poor]
•   Sex Appeal: [4.5]  The appeal with this bag is in the details.  I love the reverse, pepper-white stitching and the matching wallet.  It is sexy like Audrey Hepburn in Sabrina – sophisticated, lovely, and timeless.  It is available in four different color combinations.
•   Sport Appeal: [3.5]  Don't let the prettiness of this bag deceive you. It has strong handles, a comfy cross-body shoulder strap, and sturdy snaps that are ready for any locale.  It wouldn't be comfortable to wear while riding a bike, but it has strength and great tailoring and it's more than ready for a full day of serious shooting.
•   Day-tripping: [4.75]  Leave your purse at home.  Take this bag, the contents of your purse, and all your favorite gear instead.
•   World-trekking: [4.50]  There is plenty of room for your camera and photo accessories as well as your journal, sunglasses, and personal items.  The profile of this bag is a tad wide to be discreet – it is more a gear bag than a purse that you can also put gear into.  Depending on your preference, this can be an advantage or disadvantage to world travel.

[Photo © Jill-e Designs]
•   
Wearablility & Comfort:
I love the bowling-bag zipper on the top – it makes it a cinch to get to what I need.  The shoulder strap has great padding and the bottom of the bag has metal feet so it's comfortable to wear and protected when you put it down.  There are also lots of generous pockets to keep you organized.
•    
Dimensions:
14.0"L—-9.5'"H—-8.0'"D
•    
Price:
$239.99 (plus shipping) 
•    
Price-to-coolness ratio:
[4.0]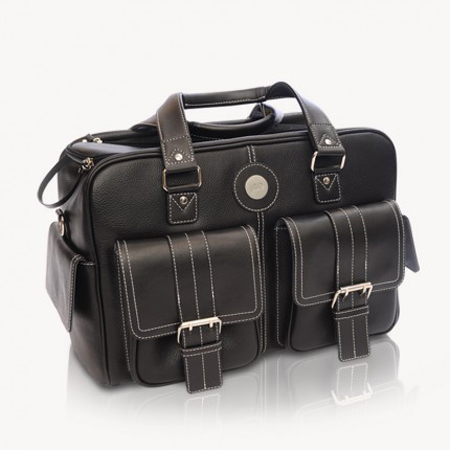 [Photo © Jill-e Designs]
•    
Comments from women:
Very positive, bordering on covetousness.
•    
Comments from men:
This bag is classy enough to take to work.  Many of my male work colleagues mentioned that they liked the traditional look of the bag.
•   
Drawbacks:
I don't personally care for the large logo on the front of the bag.
•    
Highlights:
Quality construction and thoughtful design.  The interior features moveable pads with an additional skinny flap that overlays your most sensitive equipment.  The bowling-bag zipper strap has mesh pockets for extra batteries, filters, etc.  (see image below).  I know I mentioned it already, but the reverse stitching is so beautiful I just have to put it here under highlights too!
[Photo © Jill-e Designs]
•   
Jill-e Camera Bags Website:
http://www.jill-e.com/
•    Jill-e Camera Bags on Twitter: https://twitter.com/JilleDesigns
•    Jill-e Camera Bags on Facebook: http://www.facebook.com/Jill.e.Designs
In joy,
Melinda
View more camera bag reviews! Click on the "Reviews:  Camera Bags" link under "Categories" at the top left of this page.