Travel Tattoos – The Ultimate Souvenir
Tattooing is about personalizing the body, making it a true home and fit temple for the spirit that dwells inside it.
- Michelle Delio, from the book "Tattoo:  The Exotic Art of Skin Decoration"
Yesterday I got my first ever tattoos.  It was an exciting experience and one I've been waiting for since I was in my early twenties.  Over the years I've considered different designs and admired the work of different tattoo artists, but I never found quite the right image.  Finally, at age 37, it struck me that it was words that I wanted, not images – words that brought to mind the best of times and the best of me.  Favorite words.  Words with power.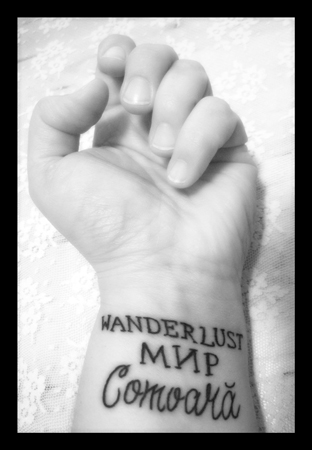 [Favorite words filled with memories from my travels – 4/2012]
Wanderlust: Wanderlust has been my favorite English word since the 7th grade. I can still remember looking at the word scratched in white chalk on the blackboard and thinking yes.  Yes – that is what I want from life, to wander through the world and let one adventure fuel my passion for the next.   And that was that – end of story – wanderlust has been my favorite word ever since.
мир: The next word is Russian (in the Latin alphabet 'mir') meaning peace or community. I lived on Peace Street in the Peace Corps and my photography business was called Strada Mir Photography or 'Peace Street Photography.'
Comoara: The last word is Romanian for treasure. The Moldovan national anthem is called Limba Noastra – it's a beautiful song about how the Romanian language is a treasure. The first line of the song is "Limba noastra-i o comoara," which means "our language is a treasure."  On the way home from a competition in the capital city, a whole bus full of my students sang this song to me, except they replaced the word 'limba' with my name, Melinda. Too often I forget to treasure myself and I forget too how much I mean or have meant to people.  Comoara is a wonderful memory, my favorite Romanian word, and a good reminder too.
I already have a favorite French and Sanskrit word picked out to add to the list.
What travel tattoos do you have?  Where did you get them?  What do they mean to you?
In joy,
Melinda Eliza