Global Photography Project: Share A Meal With the Whole World!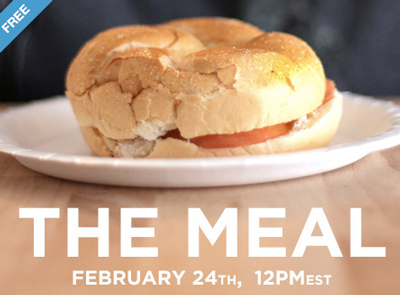 [Image © The Art House Co-op]
The Art House Co-op organizes global art projects – not competitions, but rather the opportunity to collaborate with thousands of other artists from all over the world.  What a great idea!  They are currently looking for photographers (that's you!) to participate in a food photography exhibit called "THE MEAL."  The requirements are simple (see list below) and participation is free, so sign up today!
All photographs must be taken on February 24th at 12pm Eastern Standard Time. Some participants will be eating lunch, others will be having a midnight snack, but we'll all be taking photos of ourselves with our food at the same moment.


There are no restrictions on the composition of your photograph; they ask only that you capture at least part of yourself and all of your meal/snack.


Send the Art House Co-op one 4×6 photo (matte finish and no borders, please!).  Note that both color and black & white photos are accepted.


Everyone who mails the Art House Co-op a photograph before the deadline will be included in the exhibition.


Don't forget to print your name clearly on the back of your photograph so you can receive credit for your work.


Submissions will not be returned.


Postmark your photograph by March 05, 2012 to:
Brooklyn Art Library
103A N. 3rd St
Brooklyn,

NY 11249



In joy,
Melinda Eliza