Camera Bags for Women: Sexy Perfection – The Bossi Bag by THEIT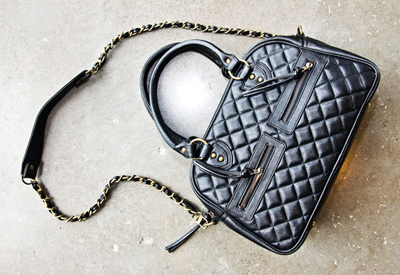 [The Bossi Bag in black – ©THEIT]
My favorite hand bag of all time is the
Chanel 2.55
.  Designed by Coco Chanel in February of 1955, its quilted black leather and gold chain accents are as elegant and feminine today as they were more than five decades ago.  I believe that Nicole Fajardo, founder and director of
THEIT
camera bag company, channeled Coco's spirit when designing her extraordinary "The Bossi Bag" camera bag for women.
The Bossi Bag by THEIT bag is just that-  it is the "it" camera bag for women. It's lovely.  It's camera haute couture.  Sit me in a comfy chair, put a good cup of coffee in my hand, and I swear I'd be happy to simply sit and gaze fondly at this bag.

[The Bossi Bag in white – ©THEIT]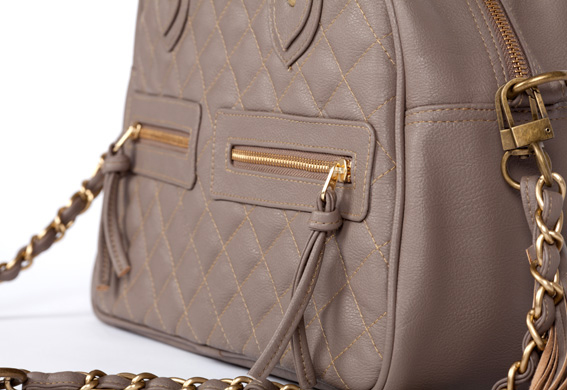 [The Bossi Bag in fawn – ©THEIT]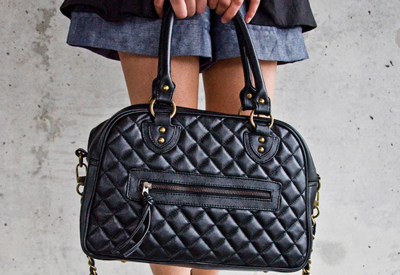 [The Bossi Bag in black – ©THEIT]
Features:  This bag is well made; it's both sturdy and secure.  Aside from its good looks, the bag is designed with the serious photographer in mind.  The interior is soft and the padded dividers make it easy to customize.  The cross-body strap is easy to detach if you prefer to use the two side handles.  I like the long strap though, as it is both comfortable and pretty to wear.  The bag is made from water-resistant, high-quality, man-made polyurethane.
Fit: I easily carried my Canon 60D body,  three lenses,  several media cards, two extra batteries, a smart phone, my wallet, some makeup, and a small note book and pen.  All of this gear made the bag heavy to carry, but doable and despite the heft of such a lot of equipment, all of the handles and zippers performed well.

[Interior of the Bossi Bag – ©THEIT]
Review: [rating system = 1-5 with 5 being excellent and 1 being poor]
•    Sex Appeal: [5.0]  A perfect mix of sophistication and sex appeal.
•    Sport Appeal: [3.5] Not sporty but still goes well with casual or sporty clothing.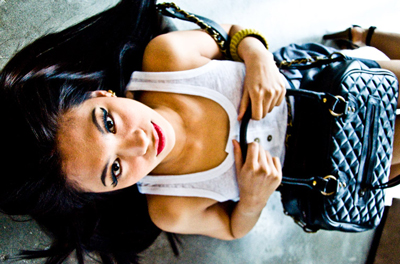 [The Bossi Bag in black – ©THEIT]
•    Day-tripping: [5.0]  Absolutely – and you'll do it in style.
•    World-trekking: [5.0]  Yes! Imagine you are sitting at a sidewalk cafe – with The Bossi Bag at you side, you look every bit the posh sophisticate.  Classic design = goes with everything and goes everywhere.
•    Wearablility & Comfort: [4.5] I found it very comfortable to use and wear.  My gear stayed organized and protected and the bag continues to stand up well to day-to-day use.
•    Dimensions: 14.0"L—-9.00'"H—-6.00'"D
•    Price: $159.00 Canadian Dollars
•    Price-to-coolness ratio: [4.75]
•    Comments from women: 100% positive!  Everyone thought it was a hot new handbag and everyone was surprised when I opened it up.
•    Comments from men: 100% positive!  One male friend said he was glad I was done carrying camera bags.  Ha!
[The Bossi Bag in black – ©THEIT]
•    Drawbacks:  None that I can think of – seriously.  Love. It.
•    Highlights: This bag is designed for serious women photographers.  It's not trying to be a unisex bag.  It is feminine and and modern and classic and smart and I love it.  (Ok – I know I'm gushing, but this is really a great bag.)  I also really love the story of the founder, Nicole Fajardo; the following is from THEIT website:




THE STORY

:  Nicole Fajardo, founder and director of

THEIT

, conceptualized the idea while working as an international flight attendant based in Dubai. Years of experience working in management, marketing and visual design, and a vehement love for fashion took on a new life while she travelled the world and developed an interest in capturing the moments around her through the camera lens. This passion for photography led her to faraway locales, where she dined in Paris, shopped on the side streets of India, and daydreamed along the canals of Venice – the only thing that was missing from these jet-setting travels was a fashionable camera bag to protect her gear. A fruitless search sparked a dream and a vision, and

THEIT

was launched in 2010.


•    THEIT Website: 
http://www.lovetheit.com/index.php
•    THEIT on Twitter: http://twitter.com/#!/theitbags
•    THEIT on Facebook:  http://www.facebook.com/loveTHEIT?sk=wall

[The Bossi Bag in black – ©THEIT]
In joy,
Melinda
View more camera bag reviews! Click on the "Reviews:  Camera Bags" link under "Categories" at the top left of this page.