Strange Snacks – Part II
And continuing from last week, more strange meat products…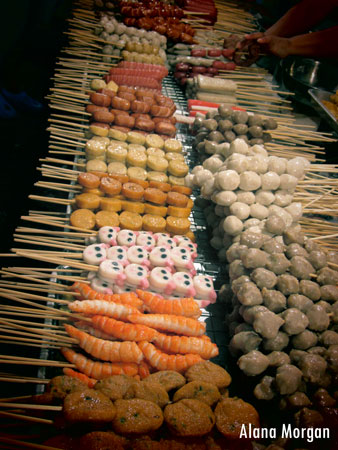 The different shades of meat on a stick
Thais seem to love their unidentifiable, processed meat on a stick.
Along with a number of fish balls and crab sticks, they also love to turned process fish bits into characters, like Angry Birds. **

Hot dog or grilled cheese sandwich?
If you can't choose between a convenient store hot dog or grilled cheese sandwich, now you can have both in one easy, disgusting-looking meal.  Thanks, 7-11!
And last but not least, my personal favorite…

Why would anyone buy and eat this?
Here we have – what I
think
is – a shredded pork and ham sandwich with mayonnaise.  I think.  I'm still not sure since I can't get past the fact that this sandwich has a certain female reproductive organ-look to it…if you know what I mean.
What's the strangest snack you've ever eaten?
**My cousin likes to call this photo: Angry Birds on Ice by Kelly Morgan
5 comments