Songkran: The Aftermath
If you came to visit Chiang Mai today you would see no traces of the craziness that was occurring just 24 hours ago.  All the stands selling ice, water guns, hats and buckets are gone.  All the litter has been picked up.  And considering the entire town turned into a massive water fight, the streets are nice and clean.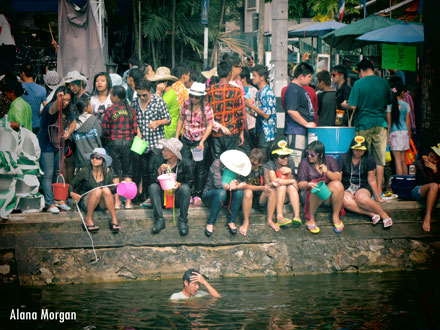 The entire three days of madness reminded me of some weird Halloween-Fourth of July-water park mash up.  Instead of trick-or-treating around the neighborhood, parents were driving their families around the moat on motorbikes or in the back of pick up trucks, armed with garbage cans full of ice water to throw onto bystanders, as well as be the target of a drenching themselves.
For the most part people were friendly and pleasant, smiling as they poured a cold cup of water down your shirt and wished you a happy new year.  I did, however, have several instances of water squirted straight into my face or a bucketful thrown hard at my back resulting in a loud "THWACK", which were mai dee (not nice).  Now things are back to normal and although I definitely appreciate being able to get around without be attacked, all the water made the 100-degree weather much more tolerable…
Unfortunately, I wasn't able to capture even a quarter of the energy, action, people and festivities…but on the upside my camera survived enough to get a couple shots.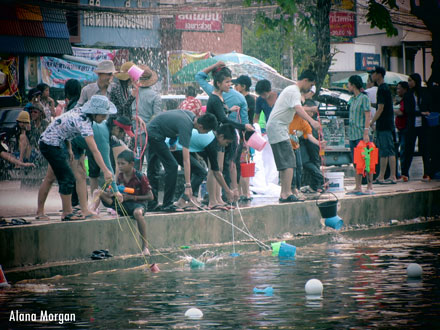 2 comments