Recipe of the Week: Salady Voankazo from Madagascar!
This week's recipe is simple, refreshing, and absolutely delicious – perfect for a sunny spring afternoon. Salady Voankazo is a fruit compote from Madagascar, and the original recipe came from the African Studies Centre at the University of Pennsylvania. You should be able to find canned lychees in most large supermarkets or specialty stores, but if you cannot find them, you can omit them and add an additional half cup of strawberries.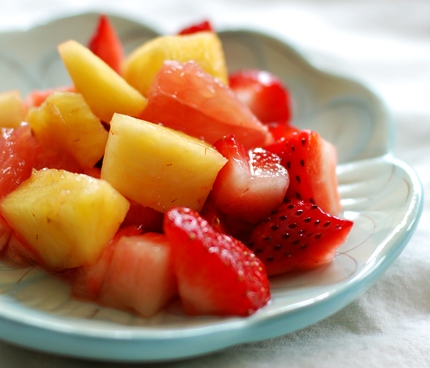 SALADY VOANKAZO
Serves 8
Ingredients:
1 cup diced cantaloupe
1 cup peeled, sliced oranges
½ cup strawberries
½ cup drained canned lychees
½ cup granulated sugar
½ cup water
¼ teaspoon salt
2 tablespoons lemon juice
2 tablespoons pure vanilla extract, plus more for serving
Instructions:
1) In a large bowl, combine pineapple, oranges, and strawberries – mix well. Pour lychees over top, and set aside.
2) In a small pot, combine sugar, salt, and lemon juice. Bring to a boil and continue to boil for one minute. Remove from heat and stir in vanilla extract. Pour the syrup over fruit and chill for one hour.
3) Mix well and then transfer fruit to small serving bowls. Sprinkle with a little bit of vanilla and serve immediately.
See? That was simple enough! Don't forget, it's Wanderfood Wednesday! Head over to Wanderfood to check out what's going on and then take a look at all the fantastic links to other delicious sites.
Next up on Food Freeway: Japan! Are you a fan of Japanese food (I am!!)? If so, what's your favourite dish?
Also, if you haven't already, take a minute and make a donation to the Canadian or American Red Cross to assist in the relief from the devastation that last month's earthquake and tsunami caused. It's just a few dollars, and it'll go a long way. To donate in Canada, text ASIA to 30333; if you're in the US, text REDCROSS to 90999.
1 comment