The Tantalizing Cuisine of Turkey
Welcome to Turkey; it's a land with a colourful, yet turbulent past, and is located smack dab in the middle of a cultural melting pot.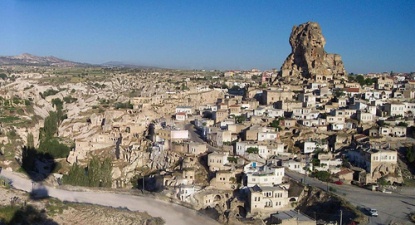 Turkey is bordered by Greece, Georgia, Bulgaria, Iran, Iraq, Syria, Armenia, and Azerbaijan; as well as the Mediterranean, Aegean, and Black Seas, and the Sea of Marmara. It's a transcontinental country, meaning it is in both Europe and Asia, and both the geography and climate change throughout different areas of the nation. The culture, as you would expect, also changes as you near other nations. The main cultural influences are from the Middle East, Europe, and Asia; of course, it is a country that has been westernized, so it is becoming very modern and similar to western countries in everyday life. There is no one way to describe the culture of this country, so instead – you must embrace the variety of it.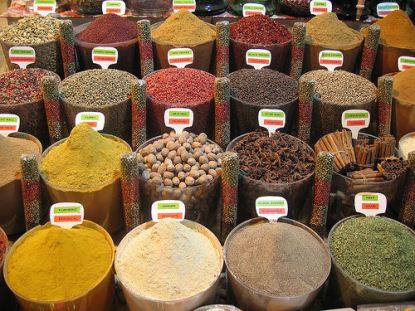 The cuisine, like the culture, is a beautiful mélange just waiting to be explored. The day typically starts out with a traditional Turkish breakfast (bread, cheese, vegetables, jam, honey, kaymak (a dairy product, usually made at home, similar to clotted cream), and tea), and a variety of foods may be consumed throughout the day. Many popular ingredients include:  yogurt, pasta, bread, fruit (like grapes, melons, apples, figs, tomatoes, currants, and dates), rice, pasta, meat, vegetables (such as potatoes, zucchini, leek, artichoke, eggplant, peppers, carrots, and cabbage), nuts, seafood, eggs, cheese, different oils (like olive and sunflower, or nut oils like walnut, or hazelnut), and beans.
Dishes common throughout Turkey include: Çorba (soup), Börek (salty pastries), Pilaf (rice), Dolma (stuffed vegetables), Mantı (pasta filled with meat and covered in a garlic-yogurt sauce and spices), Kuskus (couscous), Kebabs (typically skewered meat, but this dish varies throughout the country), Kuzu Kapama (stewed lamb), Kokoreç (sheep intestines), and Baklava (pastries made with pistachios or walnuts and honey in phyllo).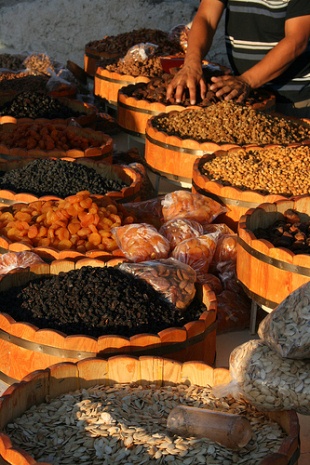 So, have you ever been to Turkey? If so, what did you think about the food? Did you notice a big change in the cuisine in different areas of the country?
Photo Credits: saipal, heydrienne, and DamienHR.
3 comments