Welcome to Greenland! Located just east of Canada's arctic, Greenland is a breathtaking country covered in mountains, fjords and ice, and is dotted in small, colourful towns.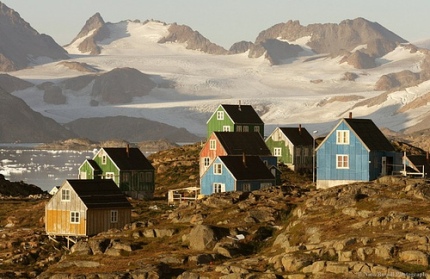 The majority of people in Greenland (the population is roughly 57,000) are Inuit, or of Inuit descent, similar to the people of Northern Canada. For generations, they have survived on local ingredients; aside from seasonal produce (potatoes are one of the only things grown in Greenland – though hothouses are becoming popular, providing locals with delicious items like tomatoes, strawberries, raspberries, cucumbers, and more!), fish (shrimp, lobster, crab, trout, halibut, salmon, catfish), poultry, and meat (from caribou, sheep, musk ox, whale, or seal) are main components to Greenlandic meals.
Much of the food in Greenland is imported from Denmark, and there is a clear Danish influence in the cuisine and culture of the country (see history here). The majority of dishes are based on heartiness and nourishment, as both of those traits in food are necessary for the locals to survive the harsh elements.
The national dish is suaasat, soup made from meat (seal, whale, or caribou), onions, and potatoes.  Most dishes are quite similar; they are based on protein-rich meats, and often include whale blubber, and rice or potatoes. Dishes are mild, in comparison with most countries, in the sense that they are only slightly seasoned, and usually only with salt and pepper. Here's a short list of typical Greenlandic fare: dried cod/whale with whale blubber, whale skin, dried meat, open-faced sandwiches, pickled herring, fried fish, and roasted meat. Dishes are generally quite simple, with the exception of Greenlandic coffee – which is composed of coffee, whiskey, Grand Marnier, and Kahlua – yum!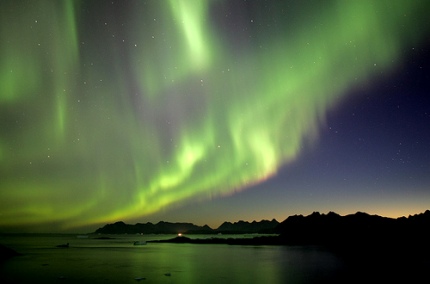 Have you ever been to Greenland? Does the cuisine sound appealing to you (a vegetarian's nightmare, I think!)? I think it would definitely be interesting and worth a shot. On Wednesday there will be a recipe from Greenland for everyone to try. Though I'm pretty sure it won't involve whale or seal meat, we'll try to keep it as authentic as possible!
* Note: Today's photos are by Nick Russil- check out his photostream on Flickr!