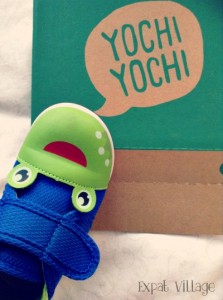 Squeaky, squeaky, squeaky, squeaky. This is what I hear as my daughter runs around our house in her new Yochi Yochi Squeaky Shoes.
"Te gustan tus zapatos nuevos? – Do you like your new shoes?"

"Siiiiiiiiiiiiii," she exclaims throwing her hands in the air and jumping(SQUEAK)!  That means yes.
A few moments earlier, the door bell rang and since we weren't expecting anyone Husband and I were curious as to who it could be. Rafaella was curious too. She loves visitors. And this visitor came delivering a package like Santa so even more to love. I must say, I, too was excited. Since the mail system in Dominican Republic doesn't run, let's say, as efficiently as it does in the States, the fact that this package arrived was almost a miracle. Score 1 for the Yochi Team.
I had forgotten what size and design I ordered until she opened the box with excitement and pulled out the Prince Kairu Shoes. Of course… now I remember. Parents of two children will understand this: feet grow fast (Yochi Yochi's tagline is "Fun Shoes for Growing Feet"), and you best believe if I'm going to spend money on shoes, kids will be wearing them for longer than a month, so naturally, I went with a bigger size that would work for both my oldest now and my youngest later. The design option I chose was Prince Kairu since the blue froggie could easily work for both my daughter and my son and I love clothing that works on more than one level. I also love good quality since in order to reuse shoes for both kids good quality is a must and I could tell that the durable rubber soles on the Frog Prince will live to see many days at the playground.
And now let's get to the real awesomeness of the Yochi Squared Shoes – the squeaky, squeaky.
They are marketed as a safety bonus – a way to "keep track of your child in a public place." Husband and I could vouch for this feature when we went to the supermarket with Rafa and her Prince Kairu feet. From another aisle, Husband told me he could hear her squeaking around the store. Annoyance to others, possibly? Bonus for parents (which I apologize for in that #sorrynotsorry way)? For sure. Major bonus.
You know another bonus you parents will love? They are easy to put on. Both my kids have other shoes that are unGodly to put on: they're too tight or not wide enough or the material sticks or they don't have the pull tab. For the love of Yochi, put an easy pull tab on your shoes, shoe makers. The mothers of toddlers will thank you. The Prince Kairu Shoes not only have a pull tab but they open up wide, making the stuffable piglet toe space wide enough to easily slip on. So easy a two-year-old could do it – as my daughter could show you. (Though she is still working on LEFT foot, RIGHT foot.)
And here is another added bonus for parents I never considered. Children love to take their shoes off. These little mini-humans physically dislike wearing shoes. Don't believe me? Come to the playground where our kids play after school and you will find that all the kids here run around barefoot. Visit my mom's house when she is watching my nephews and count the seconds after arrival until those boys fling their shoes off. It is almost instant, like some weird brainwashing. Walk through the door, kick off shoes. But here is what I've noticed when Rafa has her squeaky, squeakies on… she doesn't take them off.
She loves the sound of her shoes…
When she walks squeaky… squeaky…squeaky… squeaky.
When she runs squeakysqueakysqueakysqueaky.
When she skips squ-EAK, squ-EAK, squ-EAK, squ-EAK.
When she jumps SQUEAK!… SQUEAK!… SQUEAK!
…so she doesn't take them off.
I also want to address the squeak factor for parents. My concern was that perhaps too much of the squeak would make me freak. After all, I thought, there is only so much squeak a person could take, right? Well turns out, it actually doesn't bother me. It quickly becomes vacuum cleaner (or lawn mower) noise: you don't notice it in the background unless you are listening for it. But if you would like to quiet down the squeak, the squeakers in the shoes are removable.
Overall, I really like these sneakers. The only critique I'd mention is that the inside lining isn't glued down and it came out the other day but quite honestly it didn't really bother me and was super easy to slip back in so critique is really a way harsher word than I'd actually use. The squeak has already proven it's safety feature in only a week's time, has kept my daughter barefoot free on the playground, and hasn't driven me bonkers either. Win, win.

Next week, we are flying home to NJ for the summer. I try to pack light when traveling with two kids and two dogs and a husband. But this year we're also traveling with a Frog Prince because you know what shoes she's wearing to the airport? The ones that are easy to put on and will alert me to her whereabouts at all times. Squeaky, squeaky, yo.
Follow Yochi Yochi Shoes on Facebook
The views and opinions expressed on Expat Village are 100% my own. This means you can 100% guarantee that compensated or not, I always give my honest opinion on products, services, websites, etc. With that being said, my review of Yochi Squeaky Shoes is a sponsored review, in which I was sent a product for review purposes.