"Myths are an attempt to narrate a whole human experience…"
~ D.H. Lawrence
… but we're usually not trying to tell a whole human experiences' story, we're trying to tell just one… ours. Some myths are based in truth but when we forget that a myth is a widely believed idea and not ultimate truth, myths could be misleading. Living abroad is linked to many illusions; some in favor of life overseas, some in opposition. We can choose to accept these myths as universal truths or instead dig and discover what we deem true for ourselves.
Myth or Truth #2: You Need to Learn the Language
MYTH:
In most countries I have visited, the locals have gone out of their way to help me navigate a language that is obviously foreign to me. I never needed to learn the language because everywhere I went I could rely on English. I learned words beforehand that I thought would be important to my vocabulary:
Bonjour. (
Hello
in French) Adonde esta…
(Where is
… in Spanish) Prost! (
Cheers
in German) Domo Arigoto Mr. Roboto (something in an 80's song in Japanese)  
and the rest I managed to communicate with my hands (which have their own language), my pointing to pictures in guidebooks, or my mad skills in charades. Knowing the language is important when moving abroad but it isn't necessary, rather, I should say, it shouldn't be a hindrance or the reason that stops you from moving somewhere. Sure you might encounter people who are not willing to help you, but I've encountered that in New York City with a language I know. In fact, in my travels through Europe, the only place where the locals went out of their way to remind me that I was a visitor was Spain. I know Spanish well. My family is Cuban, but apparently, the French liked my English better than the Spaniards liked my Spanish. It was frustrating but not life-ending. Point being, you will find people who want to dismiss you because you aren't speaking their language but for the most part it is in our nature as humans to want to communicate even with people we don't understand. Think back to people who have tried to speak to you in English. Maybe it's a bit broken, maybe it isn't perfect but I am sure that you have tried to understand them and help them, right? Living abroad isn't so different.
TRUTH:
Knowing the language is a huge part of living in a different country and can be one of the biggest fears people have when thinking about living overseas. It is difficult and there aren't many more things that are as frustrating than not being able to communicate with other people or not being able to convey the exact sentiment that you are trying to get across at that moment. Although I don't think that knowing the language is a necessity, I do thinking learning it will make for a better experience. It will be hard but try and see it as part of the adventure in navigating this new place. Try to see it as a positive and an eventual benefit. Learning the language opens up a world of opportunity for you. If your moving criteria involves only English speaking countries because that is the only language you know then you are limiting yourself. I can move to Prague and not speak Czech but I should at least make the attempt. We can't expect all countries to work around our language and at the very least immersing yourself in a new language will help you to not be the "gringo" that gets hustled because the locals know you don't speak the language. From my experience, people that speak a language different than my own are willing to meet me half way – sometimes more than half way – but that doesn't mean that I don't have to try too.  Effort goes a long way.
MY VERDICT: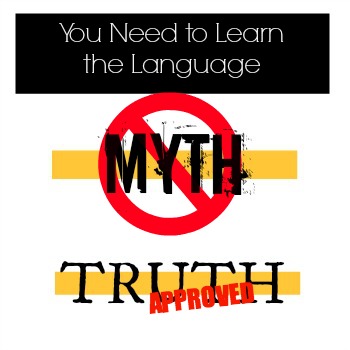 TRUTH: You need to learn the language…
I mean you don't have to do anything. You could go to China and not see the Great Wall or go to Egypt and skip The Pyramids too. It wouldn't be the end of the world but that would be silly, wouldn't it?
Picture Credit:
Talking –
Pedro Ribeiro Simões