Dear Future Expat,
What do you imagine when you imagine your life in a far off place? Maybe you imagine exotic markets, interesting strangers, candlelit dinners on street side cafés with musicians strumming away on their acoustic guitars? Perhaps you picture old-world cobblestone streets that speak history with each step, or charming villages with quirky shops run by even quirkier owners, or mountains that call to be hiked and paraponted from like a feather spinning in the air. What do you imagine? Visualize it. Taste it. Breathe it. What does it smell like? What does it feel like? Take it all in, Future Expat.
Now, let it go.
Yes, really. Let it go because living in a far off place will not be that. It won't be that which you imagined.
My fantasy of living abroad dropped me dead center in some metropolitan. Not quite as big as Paris  – although I also wouldn't snub an offer from Paree (that's how I would refer to Paris if I were a local) if we ended up there. Since I wasn't coming abroad to teach but to write, I easily imagined myself – laptop in super trendy bag, at one of the many cafés that lined the cobblestone streets of where I lived. The cafés shared those crooked-toothed streets with chic shops run by whimsical women that all wanted to grab a vino with me and be my friends. I would meet very interesting people every day and have conversations that went on entirely too long. Husband and I would get lost around town and buy our produce fresh from the al fresco weekend markets before strolling through the park with our baby tucked under a light blanket, keeping her snug from the fall chill in the air while she slept in her pram (that's what fancy people call strollers). We would put the kids to bed after a long day and sit on our fire escape and drink wine together and laugh and laugh and laugh.
What? I did say this was my daydream. I could fantasize it however I want.
In reality, what I got was further from my daydream than the miles that divide my host home from my birth home.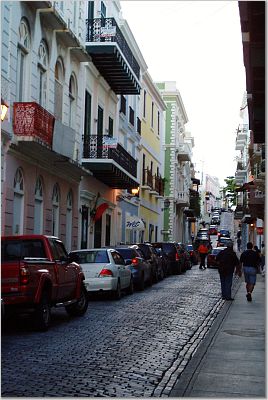 The cobblestone streets in Dominican Republic are actually just cracked and broken pavement and most of them look sketchy.They certainly don't have unique shops unless tourist traps selling flags and Mamajuana count. In fact, (and this could be counted as a good thing) I don't even like shopping here (actually, Husband counts this as a very good thing). And there is nothing chic about the Asian woman behind the counter that burns a hole in my back and follows me around the store like I'm going to steal something. She definitely doesn't want to be my friend. Husband and I get lost, but mostly because many streets don't have street signs and the streets that do have signs are on the floor, old and unreadable and broken like fossils. We've gone in the direction of the park only twice in three years, hardly what we imagined. As for a light blanket to cozy up under, we live abroad in a place that people vacation to in the coldest bone days of winter… you're better off cozying up to a frozen colada.
I tell you this not to scare you off but to ground you, to prepare you, to get you ready for expat life, for the expat life is not what you imagine it will be. It is not in the small sensory details of the destination. The true expat life is found in the cracks of yourself you never knew called to be filled in. Oh, yes there will be sites to feast your eyes on and foods that will make you look to the heavens – these things are bonuses – but the adventure comes in all sizes; in ways too small to see, too big to imagine, and too incredible to understand…yet. I tell you this so that you don't run screaming for your mother when what you imagined doesn't overlap with what is real. I'm not saying that your daydreams can't become a reality but be careful not to spend so much time picturing what you want that you don't make room for just being surprised… because often the surprises are the best part.
Future expat, if you heed only one thing I tell you, it's this… in your wildest dreams, this life will never be what you will dream it to be… it will be better. That's what's funny about dreams. You think you understand them so you try to mold your life around them. They keep you hoping. They lead you in a direction but will only lead you so far, until you realize that the reality you've created because of those dreams is so much better than what you ever imagined because it will be real. This was not the place I imagined, it isn't the place I saw for myself, but life – as well as the expat road – is about how you choose to see it.
~ Pack light. Live well. Move often. Repeat. ~