The Other Queen's Diamond Jubilee
As a former British Colony, Singapore has been awash with news of the Queen's Jubilee, which falls on Tuesday, June 5.  Walking around the city yesterday, however, I couldn't help but remember the first British queen to celebrate a Diamond Jubilee.  Signs of the Queen – Victoria that is – can still be found throughout her former empire, and most decidedly here in Singapore.
Here, Victoria Street remains a major thoroughfare through town, and last Friday, when we visited the Museum of Ancient Civilisations, we passed the Victoria Memorial Hall (now being gutted) on Empress Place.  I heard about a statue here, built in honor of Queen Victoria's Golden Jubilee – her fifty year anniversary on the throne.   Unfortunately, I learned the marble memorial stands on the grounds of Istana, the official residence and office of the President of Singapore.  The grounds are open on major holidays so I'll have to wait to get a glimpse of what people here say is a very accurate likeness of the former Queen.
We once lived on Victoria Peak in Hong Kong, and while there, we enjoyed celebrating Chinese New Year at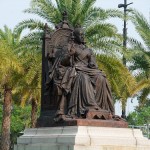 Victoria Park, which is bordered by Victoria Park Road and the spectacular Victoria Harbor.  A statue of the Queen can be seen in the Park.  It was built for the Golden Jubilee and previously stood in Central Hong Kong's Statue Square, along with other British monarchs.  It's made of bronze and shows a seated queen.
Singapore and Hong Kong are often seen as symbols of the British Empire in Asia, but how about Victoria in Malaysia?   The Queen Victoria Fountain in the heart of Malacca was erected in 1901 to commemorate her sixty year reign and features four reliefs of the young monarch's profile.
On our recent trip to Penang, Malaysia, we came across a clock tower, also built to commemorate Queen Victoria's Diamond Jubilee.  It is sixty feet tall with each foot representing a year of her glorious reign.
This, of course, only scratches the surface in terms of Queen Victoria in Asia.  Where is the most interesting place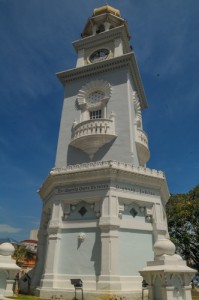 you've seen Victoria when travelling around the world?
Photos: Relief of Queen Victoria, Malacca, MY; Queen Victoria Memorial Hall, Singapore; Queen Victoria Memorial, Hong Kong, Photo compliments of photographer Minghong; Queen Victoria Fountain, Malacca, MY; and Queen Victoria Clock Tower, Penang, MY (below).
1 comment