Lovely Laksa (Singapore and Malaysia)
One of the most famous and popular dishes in Singapore is laksa, a thick, creamy, and utterly delicious curry soup.  Since moving here, I have learned that laksa has roots beyond Singapore.  On a trip to Melaka earlier this year, a local informed me that Malaysians also claim this dish as their own.  Indeed, he told me that each state boasts its own unique version.  Some, this restaurateur bragged, were so hot and spicy, that only the most seasoned palates  could endure – and enjoy – them.  I was intrigued.
That laksa is as popular in Malaysia as it is in Singapore was not a surprise. After all, it is part of a cuisine known as "Paranakan."  Peranakan (pronounced "Per-AN-uh-ken") refers to descendants of early Chinese settlers, who traveled to Singapore and parts of the Malay Peninsula, especially Melaka and Penang, and intermarried with local women.  The resulting cuisine is a wonderful blend of Chinese and Malay cooking.  Laksa is a perfect – and delicious – illustration of what combining these two great cooking traditions can produce.
I first discovered and fell in love with the rich flavors of laksa while living in Hong Kong.  At that time, I was completely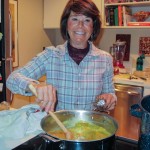 ignorant of its colorful history; I only recognized it as a good bowl of noodles.   Since then, I've learned that the Singapore version of this soup is known for the creamy coconut milk added to the curry broth, as well as the tofu puffs, shrimp and pork (or chicken).  It is topped with a spoonful of crushed curry leaves and sambal chili paste.
Earlier this year while on a vacation in Seattle, my friend, Luanne, who had read another post on Singapore laksa, invited me to help her make it from a recipe she found on the Internet.  Though she had never tasted this traditional dish, she managed to find all the necessary ingredients at the local Asian groceries.  She even pounded fresh tamarind into the requisite paste.   The result was impressive.  Luanne was able captured the complex mix of flavors well, though the soup was a bit light on spice.  Laksa is best when it has a kick.
I had the pleasure of trying the Penang version last weekend.  Within an hour or two of our arrival on this historic Malay island, I had a fresh bowl of laksa before me.  I was surprised at the difference in flavors from that in Singapore, though it was clear the soups bore similar roots.  The Penang laksa is best described as a sour, fish stew.  Yes, it had the familiar rice noodles, but the predominant taste was of tamarind and fish sauce.   I enjoyed the large chunks of mackerel and fresh herbs on top, but the pungent mix of fish sauce and tamarind (if you didn't get enough in the soup itself) that came on the side was too much for me, and after giving it a quick taste, I set it aside.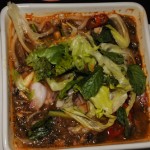 I had never thought of travelling to each of the Malay states, but my curiosity has been piqued, and a laksa tour may be in my future.  I'm certain it would be well worth the effort.
Photos, in order: Singapore laksa; Luanne making laksa; Luanne's laksa; and Penang laksa.
Laksa is easy to find in Singapore, but if you want to go to one of the restaurants that claims it originated this local dish, try here.
For other food adventures, visit Wanderfood Wednesday.
1 comment