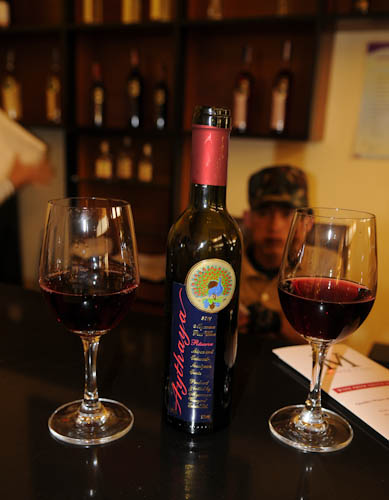 One evening, on our recent trip to Myanmar, Erik looked at me doubtfully and asked, "Shall we try it?"  I shrugged my shoulders in response, which he understood – correctly – to mean, "Why not?"  After all, we were at Inle Lake, a stone's throw from the country's only two wineries.   Our plan was to order one glass of wine from each; unfortunately, our hotel appeared to have an exclusive, so we settled for two glasses of Red Mountain Estate's 2010 Shiraz-Tempranillo.
The waiter brought our glasses of wine, and I looked at the dark red color, giving it a swirl and then a taste.  Not bad!  I am not a connoisseur, but this wine, which the company's web site describes as "…on the oaky range, like vanilla and black chocolate…" was very drinkable.
Red Mountain Estate is located in Myanmar's southern Shan State, about a thirty to forty minute drive from Inle Lake.  All of the more than 400,000 vines were imported from France and Spain, and the varieties were selected only after experimentation in this tropical environment.   The wine making equipment is imported from Italy.
Planning for the winery commenced in 2002 with the recruitment of Frenchman, Francois Raynal, who holds a diploma of Oenology and Viticulture.  Prior to his arrival in Myanmar, Mr. Raynal worked in winemaking in various countries around the world.   The first production of 1,000 bottles of Red Mountain Estate wine was in 2006, and it has been growing ever since.
The following day, we left Inle Lake thinking that we had missed our only opportunity to taste wine from the country's other
[first] winery, Myanmar Vineyard Estate, well-known (in Inle Lake anyway) for its Aythaya wines.  What a pleasant surprise to find at the one-room airport the Aythaya Wine Boutique and Café Bar.  The hostess informed us that wine was only available by the bottle, so we invited a couple of Austrians to join us in our tasting adventure.  Once again, we were all impressed.
The Myammar Vineyard Estate's web site described the Aythaya Red as a cuvee from Shiraz and Cabernet grapes, whose vines were imported in 1999 from France.  The Winery is the brainchild of German vintner, Bert Morsbach, and a group of European friends who loved both Myanmar and good wine.  Mr. Morsbach imported the first vines in 1998, and like Red Mountain Estates, Myanmar Vineyard appears to be flourishing.
To learn more about these two pioneering vineyards, visit their web sites at  http://myanmar-vineyard.com/and http://redmountain-estate.com/ , and next time you visit Myanmar, be sure to try to the local wines.  You won't regret it.
For other food (and drink) adventures, visit Wanderfood Wednesday.
Related links:
Mingun: Myanmar's Village Capital
Myanmar: How, When and What to Pack