The lure of paradise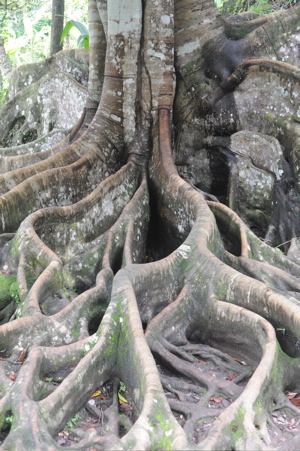 I have now traveled to the tropics many, many times.  I have lived in sub tropical Hong Kong for a total of five years.  And yet, I never tire of the still exotic and irresistible landscapes.  From the moment I step off the plane and my nostrils are enveloped with the now familiar smells, I am in heaven.
Mind you, these smells are not always represented by fragrant flowers and exotic cooking spices.  Usually, the first scent I meet when disembarking from a plane and entering the airport is a sour, mildewy smell, reminding one of the inherent dampness of the equatorial zone.
A walk in the tropics brings to mind the houseplants of my youth. I'll never forget a trip to Africa one spring when the poinsettia trees were in full bloom.  The large bushes of familiar red flowers were breathtaking.  I tried to capture their beauty on film but it proved elusive.  I am still thrilled to see leaves the size of people, enormous jack fruit testing the strength of their branches, and some of the sights featured above from Bali.  I now live in the north, but the pull of all things tropical remains strong.
Add a comment